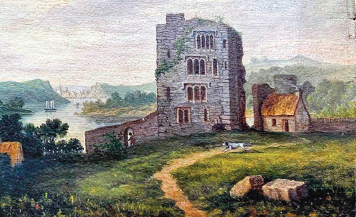 Antiques Auction | Art auction | Art exhibition
Kensington Estate Auctions Fine Art & Antiques Online Auction
Mon 11 Apr 2022 – Mon 11 Apr 2022
– Clintondale, NY
Kensington Estate Auctions Fine Art & Antiques Online Auction
Monday, April 11, 2022 at 7:00 p.m. EST
www.kensingtonesteauctions.com
[email protected]
CLINTONDALE, NY – Kensington Estate Auctions' Monday, April 11 online auction will feature a wide range of artwork and fine art. The auction is full of works of art, Persian rugs, antique books, photographs, 19th century Americana, Native American beaded artefacts, sculptures, dolls, manuscripts, British historical documents , stamp collections and more.
Americana's offerings include a collection of Civil War business card photographs, including images of Abraham Lincoln, General Grant and General Sherman. Additionally, the sale features a patriotic theorem painting; several early 19th century samplers; Hudson River landscapes and still life paintings; tramp art closet; Lady Liberty and Black Americana andirons; 19th century jacquard blanket and others.
For the book collector, the antiquarian book section includes an 1860 Curry & Rice; New York Lions, 1853; Charles Dickens' Christmas song, 1843; original handwritten manuscript: Maria & Her Son; John Champollion Precis Of The Hieroglyphic System1824; At Montorgueil The Three Colors, 1900s; and a varied collection of art books. Autographed books include In In Search of Wild Indians signed by Tom Driebe and several autographed books by Maurice Sendak.
The auction will highlight two paintings by European Old Masters from the 18th to the beginning of the 19th century; large wall painting after "The Snake Charmer" by Rousseau; 19th century painted tin nautical coal bucket; Heriz rugs; animal sculptures by Anna Huntington; a unique erotic hermaphrodite sculpture; American Plains Indian beadwork; and R. Wagner's original drawings of the Sino-Japanese War.
Around the world, 19th century Indian coffee tables and chairs with carved rosette; large pair of 19th century Chinese carved architectural elements; Embroidered processional tapestry of Burmese Kalaga elephants; antique dolls from the Meiji period; Chinese articulated sculpted figure/doll and Pop art counter culture paintings by Igor Baskakov.
Historians will appreciate the British collection of King George VI and Queen Elizabeth memorabilia; Photographs taken by a WWII RAF Lieutenant, 19th Century Royal Presentation Book with state of the art painting of Windsor Castle and works by British artists.
Bidders won't want to miss Moorcroft china; Staffordshire biscuit barrels; 19th Century Art Nouveau Royal Dux Bohemia Vase; Manises earthenware zoomorphic urn; and 19th century German KPM portrait plates.
For the collector of original photographs, there will be Golden Age of MGM Studio photographs by Irwin Bueller and those by Lida Moser.
Potential buyers will pay particular attention to art by Scottish, British and American artists; memorabilia of the Beatles; collections of copper kettles; modern marble sculptures; stamp collections; cast iron toys; Haitian art; old comic books; and more.
For more information, www.kensingtonestateauctions.com or 917-331-0807.
Lot 1: Civil War CDV Photograph Album
Lot 2: 19th C. Folk Art Theorem Patriotic Painting
Lot 3: 19th C. Needlepoint Pictorial Sampler, 1860
Lot 6: Sculpture by Anna Hyatt Huntington, 1965
Lot 10: New York Lions, Maps, Engravings, 1853
Lot 11: 19th C. American Miniature Hudson River Painting
Lot 24: KPM Porcelain Plates, Enamelled Gilt Bronze Frame
Lot 25: Zoomorphic urn in Manises earthenware
Lot 28: European painting from the Old Masters school, 18th / 19th c.
Lot 76: Art Nouveau Royal Dux Bohemia Porcelain Vase
Lot 84: semi-antique hand-woven Persian wool rug
Lot 96: Coronation of British Royal King George VI and Queen Elizabeth 1937
Pop-art counterculture paintings, Igor Baskakov
Native American Indian Artifacts
Ancient Plains Indian Beaded Artifacts
Registration and bidding via: www.liveauctioneers.com or www.invaluable.com Left hand and telephone bidding accepted.