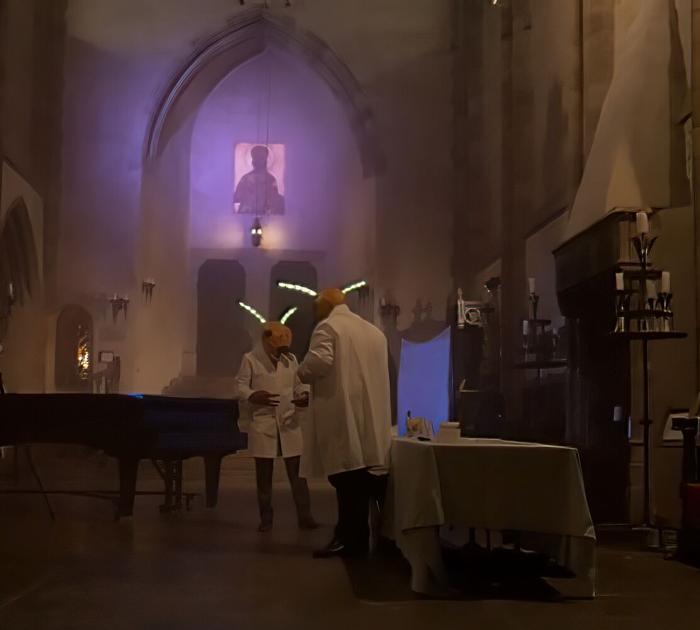 AROUND CAP ANN: Visit of craftsmen, craft exhibition this weekend | New
This is a weekend to experience the inner workings of the studios of local artists and craftspeople on the 38th Cape Ann Craftsmen Fall Tour. also this weekend at the historic Annisquam Festival Hall in Gloucester.
For the Cape Ann Artisans Self-Guided Tour, hours are 10 a.m. to 5 p.m. Saturday October 9 and Sunday October 10 at 14 studios in Gloucester and Rockport. Studios representing media such as ceramics, painting, jewelry, mixed media, quilting, mosaics, weaving, among other arts.
Members of the Cape Ann Artisans have found a continued strong interest in their work and merchandise during the COVID-19 pandemic. For seaglass jeweler Jacqueline Ganim-DeFalco, who makes hair accessories, she's found a boom in her business because so many people have stayed away from barber shops and grown their hair out.
"With the advent of 'Covid hair', hair accessories have taken center stage. I started designing exclusively to reintroduce hair jewelry 17 years ago, and this year, unexpectedly, women have rediscovered the joy of long hair, "she said.
The creative inspiration of artisans is often influenced by unexpected events, as in the case of mosaic artist Pam Stratton who once discovered that a family of crows had come together in his work in encaustic – or in hot wax -. Stratton seeks to weave mosaic and encaustic art together. Cynthia Curtis, who owns a ceramic art studio, said that with pottery one can "expect the unexpected."
"The artisans are always up to something new to show because more than half of the visitors are regulars looking back on the tour from previous years," said Ganim-DeFalco. "Plus, there's always a spirit of camaraderie in the studio that makes everyone feel like they're at home. "
In other works, Rob Diebboll has a collection of new oil paintings on themes of meditation and beach joy with his characteristic depiction of characters and dogs in nature.
To get a taste of the tour, visitors are encouraged to watch the newly produced video which features one-minute cameos from each of the craftsmen, which can be found on the capeannartisans.com website, Facebook page and YouTube. . Visitors are encouraged to pick up a Grand Cape Ann Chamber map and use it in conjunction with the Cape Ann Artisans brochure to follow the tour route, but visitors can start wherever they want. Each studio has a magenta flag on the room's Cape Ann tourism map. An electronic map of the Cape Ann Artisans Tour is also available for download with this article at gloucestertimes.com and capeannartisans.com.
Other featured artists and artisans are Deb Gonet, painting and mixed media; David Archibald, ceramic arts, porcelain and stoneware; Linda Hogan, quilter; Sara Wright, fiber arts, hand-woven and knitted accessories; Twin Lights Studio, ceramic arts; Deb Schradieck, painting; Sallie Strand, painting, abstract; Sinikka Nogelo, experimental arts; and Chloe Leigh and Marcie Rae, fine jewelers.
Visitors are asked to wear masks indoors and social distancing is encouraged.
Annisquam Arts and Crafts Fair
The 37th Annual Annisquam Arts & Crafts Show takes place this Saturday October 9 and Sunday October 10 from 10 a.m. to 5 p.m. at the Annisquam Village Hotel, 36 Leonard Street in Gloucester. The curated exhibition features the work of 35 Cape Ann artisans working in textiles, blown glass, ceramics and pottery, silver, gold, wood, paper and sea glass. There are also jewelry, handcrafted clothing and accessories, silk scarves, handcrafted oils and vinegars, soy candles, and homemade dog treats. The gallery also features fine artists with watercolor, oil and pastel works as well as a selection of local photographs. Some artists are coming back as favorites, and there are always new artists on the show every year.
The organizers are delighted to be back in person, and note that all artisans and volunteers are vaccinated. All visitors and performers must wear a mask inside the village hall. For more details, visit annisquamartsandcraftshow.org.
The Plein Air festival continues
The Cape Ann Plein Air Festival continues with a selection of activities until October 11. The 35 artists on the jury come from a pool of more than 200 candidates. Coming up, the evening painting – the Nocturne event – on the historic Bearskin Neck Peninsula in Rockport on Thursday, October 7 from 6 to 9 p.m. the gala and auction will be held on Saturday October 9 at the Glen T. MacLeod Cape Ann YMCA, 7 Gloucester Crossing Road (tickets required for this event); and finally, there is a quick draw event at Maritime Gloucester, 23 Harbor Loop, on Monday, October 11, from 9 a.m. to 4 p.m. Main St. in downtown Gloucester, where a gallery will be open daily from 11 a.m. to 3 p.m. The public is invited to stop and see the work. For more details, visit www.capeannpleinair.org.
Personal exhibition by Juni VanDyke
Jane Deering Gallery presents "Juni VanDyke – Alternative Colors for Dark Times" at the Jane Deering Gallery, 19 Pleasant St., Gloucester, until October 30th. VanDyke, who completed six years of professional art training at the Boston Museum School, served as Artistic Director of the Rose Baker Senior Center for more than 25 years. The opening hours of the gallery are Friday and Saturday from 1 p.m. to 5 p.m. and Sunday from 1 p.m. to 4 p.m.
New at Hammond Castle
In a new production this Halloween season, the Hammond Castle Museum explores the sci-fi stories of John J. Hammond Jr., a prolific inventor. "Creature Feature" includes a live performance of an adaptation of "The Termite Monster" by Hammond, a sci-fi horror comedy written in the style of the classic "B-movie" genre. It's the story of the brilliant but obsessed termite scientist, who experiments with a serum to enhance his physical abilities, but accidentally turns into a frightening creature.
The event opens with the reading of the story "The Pet", which tells the story of two explorers who discover a strange creature in the jungle. The entire program lasts approximately 45 minutes and takes place in the great hall and courtyard of the museum. Performances take place on Tuesdays October 19 and 26 with shows at 7, 8 p.m. and 9 p.m. as well as on Saturday, October 23, with shows at 6 p.m., 7, 8, 8 and 9 p.m. Tickets cost $ 18 and are available online at hammondcastle.org.
During the month of October, curatorial director John Leysath created an animation of "Termite Monster" in the tradition of retro 3D cinema. Red and blue glasses will be provided for visitors to enjoy the short film featured in a temporary exhibit, "Hammond & Horror," which will feature some of Hammond's writings of horror genre.
The museum is open every day until the end of October and on Fridays, Saturdays and Sundays in November and December.
A round Cape Ann is a column devoted to events taking place in Cape Ann and to Cape Ann artists performing elsewhere. If you would like to submit an article, contact reporter Gail McCarthy at 978-675-2706 or [email protected] at least two weeks in advance.