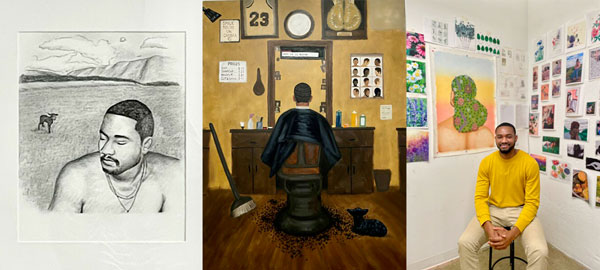 Artist Jonte was inspired by the feeling of being a "black sheep" and the power of arts education
NEW | CHARACTERISTICS | OVERVIEW | EVENTS
By Rachel Alban, JerseyArts.com
originally published: 05/11/2021
Hailing from Paterson, NJ, Jonte Drew is a visual artist whose work often explores issues of masculinity and physicality in relation to the perception of black men. A graduate of William Paterson University, where he obtained both a BFA in 2018 and an MFA in 2021, Jonte is currently the Artist-in-Residence at Art Fair 14C. The group's residency programs were created to expand opportunities for artists who may not have access to other residencies, including artists with disabilities and those who have recently obtained an MFA.
We recently visited Drew at his Jersey City studio to learn more about the residence, his life and his work.
Jersey Arts: Tell me about your career as an artist. How did it start?
Jonte Drew: My mom always put me in basketball camp when I was younger and I hated it! My brother and all the boys in my family played sports and it wasn't for me. Around the age of 11, my mom finally got it and signed me up for art classes at the Lena Di Gangi Gallery & Studio in Totowa, NJ. Lena Di Gangi inspired me to start doing portraits. I took classes with her for several years, until I had access to art classes in my high school. So I have always studied art.
Tell me about your experience as a resident of 14C.
Advertise with New Jersey Stage for $ 50 to $ 100 per month, click here for more information
---
I just got my MFA in May 2021 and one of my goals was to try and get a residency. I applied to a few, and luckily got this one. The studio space is much larger than my previous space. I can move around a lot and I feel free. Studio spaces are expensive and I don't know if I could have created this work without this space. I am grateful and excited to see what comes of it.
As I walk into your studio, I notice this verdant and bucolic environment with the lamb, and I immediately think of Psalm 23. Is religion a central theme in your work?
It's interesting that you noticed that. Much of my work focuses on Christianity and spirituality. The title of my recent work is "The Black Sheep in Green Pastures", a reference to Psalm 23. I intentionally wanted to place myself in this spiritual and religious place. It is a triptych, and the number three also has religious significance.
To the background of the third painting, I added the Paterson Great Falls, where I'm from – my own past, to the background of the painting. In this body of work, the Lamb is representative of innocence, of Christ, and of the people of God, but on another level, it is representative of my younger self.
The black lamb is a recurring symbol in several works. Tell me more about what the black lamb means to you.
We all have a younger self that we tend to carry throughout our lives, and the lamb represents mine. I practically grew up feeling like the "black sheep" of my family and wanted to embody that feeling in my work. Also, I'm African American and the sheep is black, so I play with that a lot.
In different bodies of work, the lamb – representing my younger self – is placed in different environments. In one series, I placed the sheep with me in real life situations like my bedroom, hair salon, and basketball court. All of these parameters were really important to me as an African American boy. The experiences in these places kind of shaped and shaped me, although I often felt like an outsider and out of touch with my community.
In each of these paintings, the central figure is me, and the lamb is always with me, but I am not always aware of his presence. As a spectator, you are not always sure if this is really a living animal, or a random symbol, or if it is a spirit.
In the green pasture, I interact with the lamb. I become fully aware of his presence, then finally I accept and kiss this lamb. Here we are in an ultra-saturated and idealized environment. It is a spiritual realm.
I actually started drawing the lamb in 2017 and had no idea it was going to lead to this. I was originally going to do one work, "The Black Sheep," but soon after I reread Psalm 23 and was inspired by the green pastures. I realized there was a spiritual aspect to the symbol that resonated, and a visual that I wanted to explore.
Advertise with New Jersey Stage for $ 50 to $ 100 per month, click here for more information
---
Tell me about the chalk pastels you are working on.
Durags are important in the black community, especially for men when they want to grow their wavy hair. My room is full of durags of all colors. During the pandemic, I didn't have my hair cut for about 10 months, and it was killing me! So I pretty much lived in my durag. And I started to think of durag as a metaphor for taking care of yourself and your sanity. The plants and flowers are all healing varieties with medicinal properties, such as echinacea, lavender, and chamomile.
How is your creative process different / similar when working in different media?
I am more comfortable with drawing than painting. I started with graphite and micro-pens; I feel a sense of control in these materials. The paint is smoother which can be a bit more intimidating, especially when working in layers and thinking about the drying time.
How has your job helped you deal with your emotions?
This is the second body of work that I have done that comes from a raw and emotional place. It was very healing. When I do art, it demands my full attention and I don't really think about anything else. I am completely focused on what is in front of me. I feel very present in the moment which is good for my mind.
I see you have a whole wall of inspirational images in your studio. Which artists have inspired you?
Toyin Ojih Odutola inspires me because she also works with pastel, and creates portraits that tell a story. Kerry James Marshall, Kehinde Wiley are inspiring and unique. I also like Van Gogh, Japanese prints and botanical drawings.
It seems that your formal art training and art history really informs your practice.
Yes, I feel lucky to have had access to so much formal training. However, I didn't really start taking art seriously until I was in college. Until then, it was just fun and therapeutic for me. In the studio and in art history class I was exposed to so many different artists and it opened my mind to a whole new world. There have been artists for centuries before me, telling amazing stories, creating amazing works. It pushes me to create work that is beautiful but also has spirit and a deeper message.
A lot of people stop making art after college. Why do you think it is? And what was different for you?
I think a lot of people buy into the "starving artist" myth. They don't see art as a viable career. But, it's the only space in life that I trust. I know what I mean and how to communicate visually. I am very proud of it. I never wanted to do anything else. Art is what saved me and kept me sane. Art keeps me alive.
I saw that you have been working on a few public art projects recently. Memorable experiences of working in the public sphere?
Yes, the Black Lives Matter Street mural in Paterson was a truly special experience. Under the direction of Christopher Fabor Muhammad, educator and muralist, we worked there for four days. Everyone from different generations worked together; there was a strong sense of community. I think this project really inspired and reinvigorated the community to the possibilities of public art. We had fun but delivered a needed message. It showed the power of art and community.
I am interested to know if you have any advice for young artists.
Find your voice and be intentional in your message. Do your best to be genuine. Study works that inspire you, but don't copy directly. Get as much inspiration as you can, then find a way to make your work unique. Finally, don't stop creating.
What are you excited about or hoping for?
The 14C art fair.! In December we have an exhibition here at the studios and I will have a solo exhibition to crown this residency. After that, I just want to keep creating work.
Header photos: "The Black Sheep in the Green Pastures," "It's Time" and a photo of Jonte Drew in his studio. All photos are by author, Rachel Fawn Alban.
---
About the Author: Rachel Fawn Alban is an arts educator, writer and photographer based in Newark, NJ. Since 2013, she has been covering art and culture stories for UntappedCities.com, StreetArtNYC.org and ArtBreakout.org and has contributed to Google Arts and Culture's online exhibition 5Pointz. As an arts educator, Rachel develops and leads art workshops for organizations such as Paul Robeson Galleries at Rutgers University, Abrons Art Center, Scholastic's Alliance for Young Artist and Writers, and is part of the team. Trauma Informed by Arts Ed Newark. Rachel received her BFA in Arts Education and MPS in Art Therapy from the School of Visual Arts. Rachel is thrilled to be focusing on the arts in New Jersey now!
Content provided by Discover Jersey Arts, a project of the ArtPride New Jersey Foundation and the New Jersey State Council on the Arts.