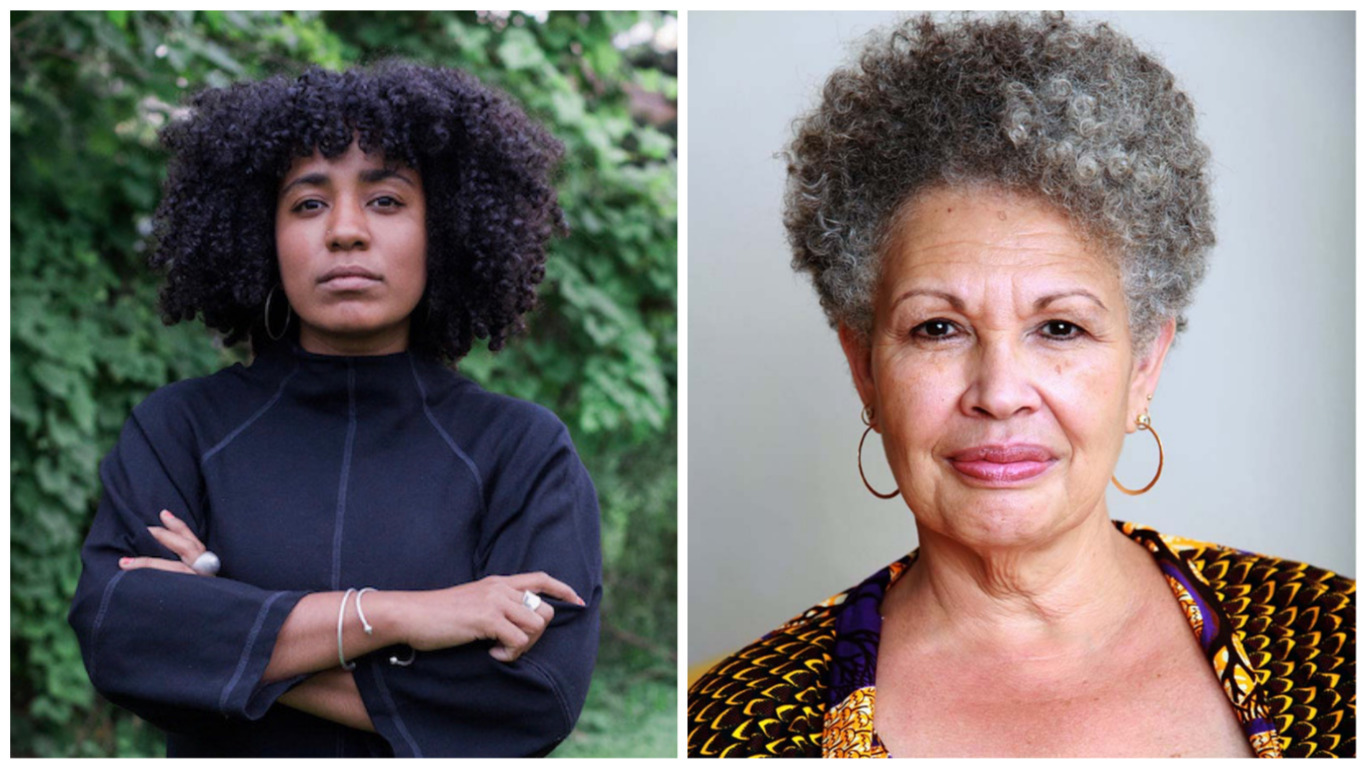 Breaking news in black art: new academic nominations at Tufts, Temple and Rutgers, 20,000 items of black memorabilia up for auction, Ghana at the Venice Biennale, and more.
Latest News in Black Art features updates and developments in the world of art and related culture

From left, Jova Lynne begins at Temple Contemporary at the Tyler School of Art and Architecture on January 31. | Photo by Clare Gotto; Margaret Vendryes officially joins Tufts University in June. | Photo courtesy of Margaret Vendryes
Appointment
Marguerite Vendryes was named Dean of the School of the Museum of Fine Arts at Tufts University in Medford, Mass. She joins Tufts from York College at the City University of New York (CUNY), where she is a professor, director of the Department of Fine Arts Gallery, and chair of the Department of Performing and Fine Arts. Pedagogue, art historian, artist and curator, Vendryes is the author of Barthé: A life in sculpture, a historical biography of Richmond Barthé. It officially begins at Tufts in June. | Following
Temple University's Tyler School of Art and Architecture named Jova Lynne director of Temple Contemporary, Tyler's center for exhibitions and public programs. A curator, educator and artist, Lynne previously served as Senior Curator at the Museum of Contemporary Art Detroit (MOCAD). His appointment to Tyler takes effect on January 31. | Following
Express Newark, a socially engaged art and design center at Rutgers University Newark that hosts this year's Black Portraiture[s] Conference (February 17-19), announced a new leadership. Salamishah Tillet was named executive director of Express Newark, and Nick Klein will serve as creative director. Tillet is the Henry Rutgers Professor of African American and African Studies and Creative Writing at Rutgers University and founding director of New Arts Justice, an initiative for black feminist approaches to public art in Newark and New York. -of the. Kline is an artist; associate professor of photography at Rutgers in the Department of Arts, Culture and Media; and founder/director of Shine Portrait Studio in Newark, which is in the same space where James Van Der Zee held his first photography job. | Following
Art fairs
Several galleries are showing solo shows by female artists at Frieze Los Angeles (February 17-20), including Ortuzar Projects where works by the Savannah, Ga. Susan Jackson, founder of Gallery 32 in Los Angeles (1968-70), will be exhibited. | Following

Elizabeth Meaders has collected approximately 20,000 African American historical and cultural objects over the past six decades. According to Guernsey, researchers say the collection is unmatched by public or private funds. | Via Guernsey
Auctions
Guernsey's in New York is auctioning off the collection of black memorabilia from Elizabeth Meaders February 28. A 90-year-old resident of Staten Island, NY, Meaders has acquired approximately 20,000 African American cultural and historical objects over the years. She started collecting the archives in 1960 when she was a young teacher. Many mediums and personalities are represented in a range of categories, from slavery and civil rights to sports, the military, arts and entertainment. According to Guernsey, scholars and historians have praised the depth of the collection and the many stories it tells and knowledge it reveals. The vast collection is offered in one bundle in hopes that it can go to a university or a museum. | Following
Biennials
Ghana has announced its exhibition plans for the 59th Venice Biennale. Titled "Black Star: The Museum as Freedom," the shortlist will feature works by three artists—Na Chainkua Reindorf, Afroscope and Diego Arauja. The pavilion is organized by Nana Oforiatta Ayim, Director of ANO Institute of Arts & Knowledge in Accra and Director General of Museums and Cultural Heritage of Ghana, and designed by architect DK Osséo Asare. The exhibition will be on display in the Ghana pavilion from April 23 to November 23. 27, 2022. | Following
bargain book
"Chasing Me to My Grave: An Artist's Memoir of the Jim Crow South" by Winfred Rembert is currently available for $15, half the regular price. Rembert died on March 31, 2021 at his home in New Haven, Connecticut at the age of 75. The artist painted and carved on leather vivid scenes reflecting his life experiences, which he also wrote about "Chasing Me to My Grave". Published posthumously in September, the highly acclaimed book includes illustrations, was co-authored with Erin I. Kelly, and features a foreword by Bryan Stevenson, founder and executive director of the Equal Justice Initiative. | Amazon
CT
TYPE OF SUPPORTING CULTURE
Do you like and appreciate the type of culture? Please consider supporting its ongoing production by making a donation. Culture Type is an independent art history project that requires countless hours and expenses to research, report, write and produce. To help support it, make a one-time donation or sign up for a recurring monthly contribution. It just takes a minute. Thank you very much for your support.