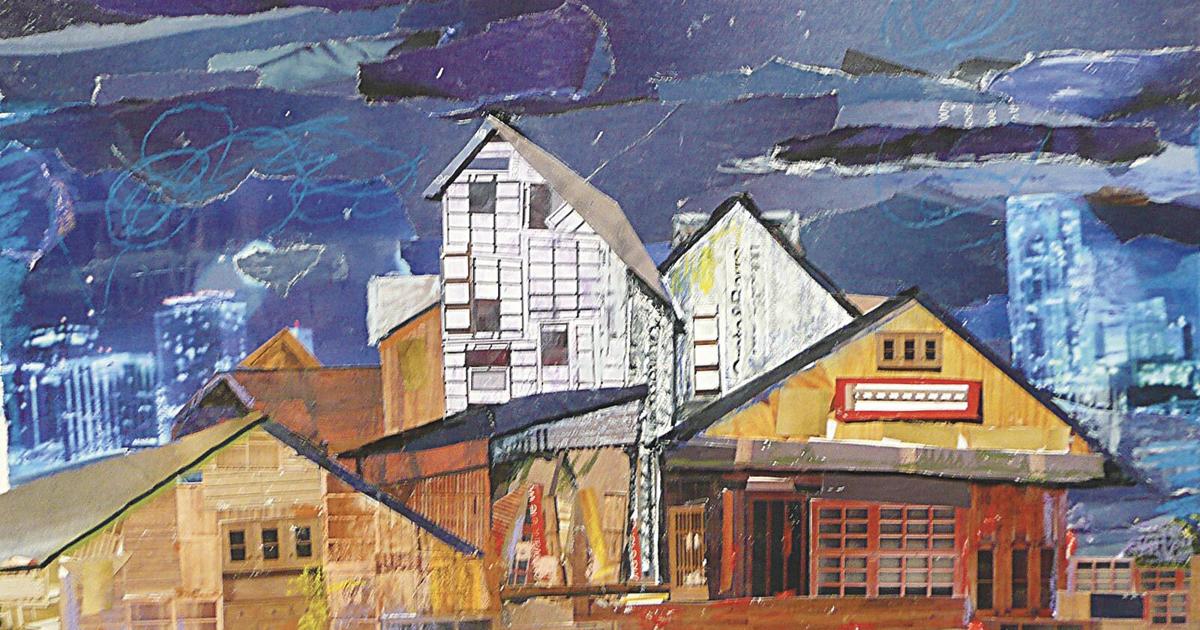 Cannon Beach Gallery Declares a Pasted Paper Revolution Exhibition | Community
Method and sensibility meet disorder and turmoil in the CBAA's upcoming art exhibit, "Paper Paper Revolution." This exhibition will highlight the often overlooked discipline of collage. Featuring local and regional artists Rex Amos, Moss Niesche, Eva Lake, Susan Schenk, Jason Berlin and Timothy Root. The "Pasted Paper Revolution" will take place from March 30 to April 24, 2022. Join us for a gallery reception on Saturday April 9, from 3:30 p.m. to 5:30 p.m.
Rex Amos was an unruly member of the Portland avant-garde in the 1960s and 1970s. In recent years, he and his wife Diane have lived quietly on the Oregon coast, where he creates intricate collages based on components precisely cut from vintage magazines, old posters and other random materials. While some collagists tear up their papers, Amos is a "scissors" man. He is a remarkably skilled carver, able to carve and cut intricate edges with great precision and reconstruct the cut shapes into exotic, historical, erotic and sometimes political imagery.
Moss grows on trees. The multidisciplinary artist explores and challenges all the senses – eyes, ears, taste and beyond. It can be found, perhaps in the woods – somewhere along Highway 101 on the northern Oregon coast – but only when it chooses to be – creating not out of expectation, but out of necessity.
Eva Lake is an artist who has worked in collage, painting, printmaking, zines, performance, writing, film, radio, theatre, music and dance. She began during the punk era of the 1970s making collages for fanzines and window installations and has shown her work internationally since 1980. She studied art history at the University of Oregon and painting at the Art Students League of New York. Lake has also curated exhibitions and worked at galleries such as Lovelake, Chambers Fine Art, Gallery 500, The Independent and Russo Lee Gallery. Lake currently lives and works in Portland, Oregon and is represented by Frosch and Co in New York and Modernism in San Francisco.
Susan Schenk sees art as an invitation to see beyond the apparent. From a distance, his collages look like paintings. Up close, they are complicated mixes of disparate parts. These collages look like our own lives; attractive when viewed from a distance but somewhat fractured when inspected more intimately. Schenk uses discarded materials such as recycled magazines, cards and other ephemera, to further the idea of ​​finding beauty in the neglected. This process leaves a small carbon footprint and, more importantly, lays a trail of enjoyment for others.
Jason Berlin received his BFA from the Oregon College of Art and Craft and his MFA in Visual Studies from the Hallie Ford School of Graduate Studies at the Pacific Northwest College of Art. (Portland OR ) Berlin works in oil painting, sculpture, installation, collage and conservation. In 2016 Berlin launched Stall Gallery as a curatorial project and in 2016 she received a six-month artist-in-residence at the Rainmaker Artist Residency in Portland, Oregon. Berlin's work has been exhibited in numerous art shows throughout the Pacific Northwest and in group shows in New York, France and Vancouver BC. Berlin divides his time between the rural countryside of Longview Washington (his hometown) and the urban life where he lives in Portland Oregon.
Gallery hours are Wednesday through Sunday, 11 a.m. to 4 p.m. and by appointment. For more information, please contact the gallery at 503.436.0744.