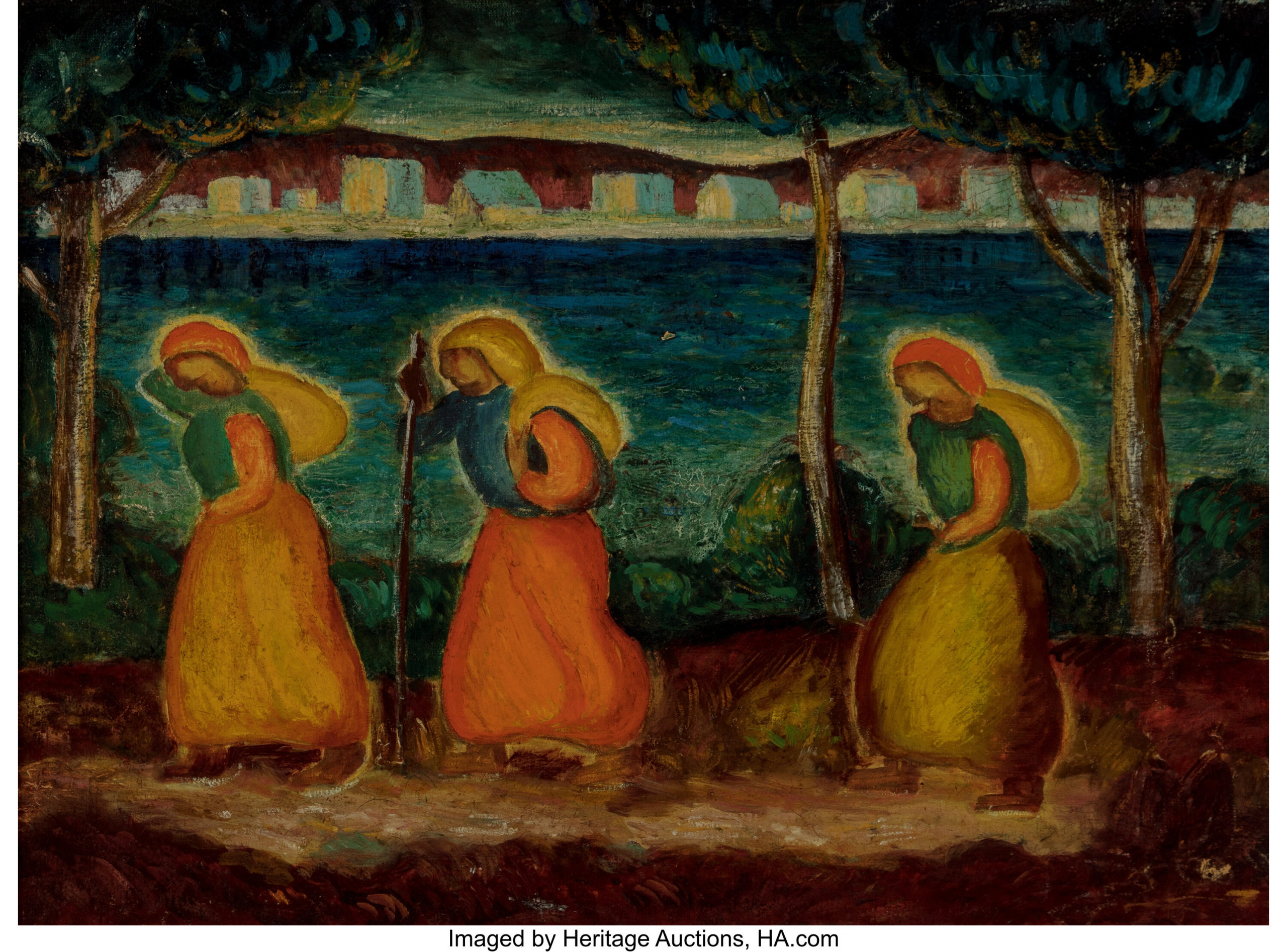 Heritage Auctions organizes the sole proprietorship sale of nearly 100 works by African-American artists, including Sargent Johnson, James Lesesne Wells and Elizabeth Catlett
HERITAGE AUCTIONS in Dallas, Texas will sell a treasure trove of African-American art from a private collection next month. The selections include works by Elizabeth Catlett, Charles White, Charles Alston, Romare Bearden, Jacob Lawrence, Mavis Pusey, Emma Amos, and Sam Gilliam.
The best lots are "Tête de jeune" (circa 1930), a terracotta sculpture by Sergeant Claude Johnson and "Wanderers" (circa 1930), a figurative painting by James Lesesne Wells. The two works are estimated between $ 30,000 and $ 50,000. The auction takes place on November 5 and takes place during the second session of the American Art Signature Auction.

Lot 67214: SARGENT CLAUDE JOHNSON (American, 1888-1967), "Head of a Youth", circa 1930s (terracotta, 7 inches / 17.8 cm) high by 3 1/2 inches / 8.9 cm high wooden base). | Estimate $ 30,000 to $ 50,000
Recorded by a collector based in Canada who prefers to remain anonymous, 95 lots of more than 60 modern and contemporary African-American artists are on offer. A range of mediums is represented, from painting to sculpture, including mixed media and works on paper. The majority of the works are limited edition prints. The material spans nearly a century, dating from the late Harlem Renaissance in the 1930s to the present day with "Racquel Come to Me Two", a digital pigment print produced by Mickalene thomas in 2018.
Other auction highlights include "Head of a Woman" (circa 1938), a second sculpture by Johnson; "Surrealist figures with tribal mask", an undated painting Charles Alston; watercolors Bob Thompson, Norman Lewis, and Eldzier Cortor; and an abstract steel sculpture by Harold Cousins.
Three ink, wash and collage portraits of historical women were made in 1942 by Lois Mailou Jones for an illustrated calendar of 12 American women. Prints of historical figures such as Benny Andrews, Vivian E. Browne, Margaret Burroughs, Hughie-Lee Smith, and John Wilson, are offered. A number of artists active today are also featured including Thomas, Gilliam, McArthur Binion, Rashid Johnson, Richard Mayhew, Martin Puryear, Faith Ringgold, Betye Saar, Jamel Shabazz, Lorna Simpson, and Anne Tanksley.
HERITAGE CALLS THE EVENT "Soul of a Nation: Black Art From a Distinguished Collector", boldly borrowing the name of the flagship exhibition organized by Tate Modern in London. Showcasing award-winning original works produced by some 60 iconic African-American artists between 1963 and 1983, "Soul of a Nation: Art in the Age of Black Power" (2017-20) has traveled around the world to museums in Arkansas, New York, Texas and California. .
Aviva Lehmann, vice president and director of American art at Heritage Auctions, told Culture Type that the shipper has spent his career in the entertainment industry. He "originally collected historical documents and manuscripts relating to black history and from there over the past 15 years he has become very interested in fine art, mainly from the Renaissance to Harlem and even today, "she said. "At Heritage, we looked after its collection of historical documents. It worked very well (as of January 2019). We had a relationship with him and I was able to convince him to let us sell his collection of works of art.
Lehmann added: "It's just exciting for me. We are an American auction house. We do very well with American art and I just thought it was time, as an American auction house, to focus heavily on black art because it is such an integral part of our history. . I am happy to handle it.
"We are an American auction house. We do very well with American art and I just thought it was time, as an American auction house, to focus heavily on black art because it is such an integral part of our history. . I am happy to handle it. – Aviva Lehmann, Heritage auctions

Lot: 67222: JAMES LESESNE WELLS, (American, 1902-1993), "Wanderers", circa 1930 (oil on canvas, 18-1 / 4 x 24-1 / 2 inches / 46.4 x 62.2 cm). | Estimate $ 30,000 to $ 50,000
A catalog accompanies the sole proprietorship with Johnson's "Head of a Youth" adorning the cover. The catalog features an essay by Halima Taha, artistic and cultural strategist and author of the book "Collecting African American Art: Works on Paper and Canvas". She writes about the collection of black visual culture and chronicles the growing interest in African American art in the aftermarket. The catalog also includes an introduction by the collector, who signs his contribution with the initials: "JS"
About ten years ago, after observing the African American art auction market for a few years, "it became clear to me that this was an area of ​​collecting that I could participate in. And most importantly, it was still affordable, which it is. more and more difficult to say. The work was visually exciting, varied, powerful and even revealing, "he wrote.
According to him, passion and love are the key motivations that drive collectors. "Each addition to a collection, acquired with diligence and method, is like fitting a piece to a puzzle that will never be completely finished. As the puzzle grows, new perspectives open up, knowledge expands, appreciation of objects, their makers, the social context in which they were made, deepens, "wrote the collector.
"This has certainly been the case with my collection of noir art which is being auctioned here today. If the world of Black Art had not been opened to me, I would never have had the privilege or the pleasure to meet such wonderful and accomplished artists as Romare Bearden, Elizabeth Catlett, Jacob Lawrence, Emma Amos, Sargent Johnson, Mickalene Thomas, and it isn't even starting to scratch the surface. CT
* Condition reports included with each lot disclose issues of aging, wear and damage
LEARN MORE The first session of the American art auction on November 5 at Heritage Auctions features three works by African-American artists: "Head of a Boy" (nd) by Richmond Barthé; an undated billiard room painting by Ernie Barnes from the Steve Lawrence and Eydie Gorme collection; and "Harlequin" (circa 1956), a collage by Romare Bearden on various papers with paint, ink and pencil on paper estimated at $ 250,000-350,000. The Bearden Collage has labels on the back of the ACA Galleries, Jerald Melberg Gallery, Whitney Museum of American Art, and National Gallery of Art. The museum's labels cite photographer Frank Stewart as the lender of the traveling exhibition "The Art of Romare Bearden". The provenance of the lot lists Stewart and artistic and cultural strategist Halima Taha, who decades ago co-owned the Onyx Gallery in New York City.

Lot 67217: LOIS MAILOU JONES (American, 1905-1998), "Village Street", circa 1950 (watercolor on paper, 11 1/2 x 8 1/2 inches / 29.2 x 21.6 cm). | Estimate of $ 3,000 to $ 5,000

Lot 67231: ELIZABETH CATLETT (American, 1915-2012), "Survivor", 1983 (linocut on paper, 9 3/8 x 7 1/2 inches / 23.8 x 19.1 cm), Ed. 142/1000. | Estimate of $ 3,000 to $ 5,000

Lot 67236: CHARLES WILBERT WHITE (American, 1918-1979), "Head of a man in profile", posthumous print, circa 1984 (engraving on wove paper, 8 7/8 x 12 inches / 22.5 x 30.5 cm ), annotated in pencil lower left; artist's estate stamp lower right, printed and published posthumously by Hand Graphics, Ltd., Santa Fe, New Mexico with ink stamp on reverse. | Estimate of $ 2,000 to $ 3,000

Lot 67286: RALPH ARNOLD (American, born 1924), "Cascade", 1986-88 (pencil, acrylic and pencil on paper, 22 5/8 x 22 1/4 inches / 57.5 x 56.5 cm , sheet). | Estimate of $ 1,000 to $ 1,500

Lot 67291: EMMA AMOS (American, born in 1938), "At the top of the world", 1996 (color engraving with collage of fabric on paper, 75.9 x 56.2 cm, sheet), ed. 16/60. | Estimate of $ 2,000 to $ 3,000

Lot 67298: BETYE SAAR (American, born 1926), "Keep for Old Memories, 1976 (offset lithograph on paper, 13 3/4 x 18 1/8 inches / 34.9 x 46.0 cm, sheet), ed . 57/250. Printed by Cirrus Editions, Ltd., Los Angeles. | Estimate of $ 1,200 to $ 1,800

Lot 67242: JACOB LAWRENCE (American, 1917-2000), "Revolt on the Amistad", 1989 (color silkscreen on wove paper, 35 x 25 3/4 inches / 88.9 x 65.4 cm, image), ed. . 88/120. Posted by Spradling-Ames, Key West Printed by Lou Stovall. | Estimate of $ 6,000 to $ 8,000

Lot 67296: MICKALENE THOMAS (American, born 1971), "Racquel Come to Me Two", 2018 (digital pigment print, 15 1/8 x 11 5/8 inches / 38.4 x 29.5 cm, image; 16 1/2 x 13 inches, sheet), signed, dated and edited 9/50 in pencil. | Estimate of $ 4,000 to $ 6,000

Lot 67219: SARGENT CLAUDE JOHNSON (1888-1967), "Head of a Woman", circa 1938 (glazed terracotta, 5 1/2 inches / 14 cm high by 3/4 inch / 1.9 cm painted wood base ). | Estimate $ 15,000 to $ 25,000
TYPE OF SUPPORT CULTURE
Do you like and appreciate the type of culture? Please consider supporting its ongoing production by making a donation. Culture Type is an independent art history project that requires countless hours and expense to research, report, write, and produce. To help maintain it, make a one-time donation or sign up for a recurring monthly contribution. It just takes a minute. Thank you very much for your support.