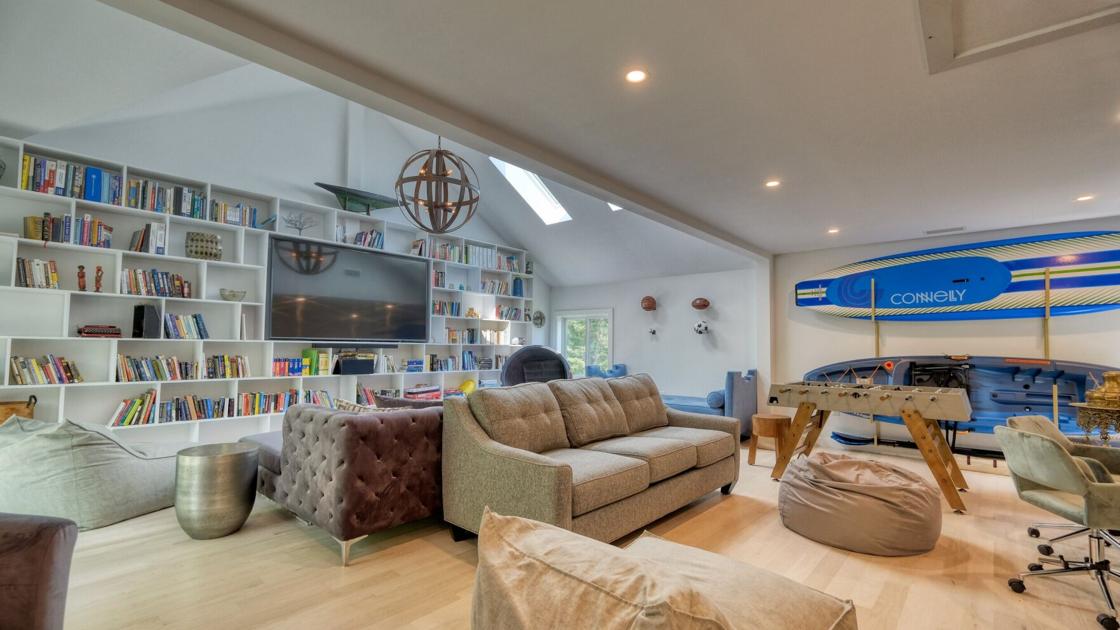 How Shared Estates Makes Real Estate Investing Possible for Everyone | Sponsored
If you've always wanted to start investing in real estate but thought you didn't have the money, now is the chance.
If you've always wanted to own some of the finest vacation rental properties in the Berkshires but thought you didn't have the money, now is your chance.
Recently, laws have been changed to allow real estate investing through crowdfunding, which means people can become investors for as little as $ 1,000.
"Think of it like GoFundMe for real estate investments," said Daniel Dus, managing director and general partner of the Shared Estates Fund, a carbon neutral real estate development company. "Each project has its own LLC registered with the SEC. Our investors are co-owners of this property, which is owned by this LLC. "
This fund is fully concentrated in the county of Berkshire and its objective is to rescue failing historic properties from the 1800s and early 1900s, renovate them and install amenities such as private tennis courts, swimming pools, spas and even virtual reality and fine art game rooms. .
"Our most recently completed project, the Freeman Berkshires Project, is an 11,300 square foot estate in Egremont, Massachusetts. We funded $ 890,000 in crowdfunding, raised from 141 investors, "said Dus.
His group tends to work with extremely exclusive properties that in the past have only been used a few times a year as a second, third or fourth residence. Through their efforts, Shared Estates is able to make homes accessible to the public through the vacation rental markets by reducing the cost per person.
One of the group's properties, The Playhouse, was on Netflix's "World's Most Amazing Vacation Rentals".
"Our first project was built by George Westinghouse, our second by a senior finance executive at Mercedes-Benz. We did a project that was developed by actor Christopher Reeve, and we are currently closing a project that was built for a US secretary of state, "Dus said.
The idea is to target the small group travel market, primarily multigenerational family travel or small group travel, such as a family reunion or executive retreat. And the cost per person will often be lower than a standard hotel rate.
Plus, the group will have the entire property to themselves, which means you don't share it with other groups or other guests. The cost of the group is approximately $ 100 per person per night.
The group also tries to offer the best possible amenities at their properties, such as Tesla Internet Trucks, game rooms, outdoor and indoor activities, and high-quality artwork by notable artists.
"We have world-renowned artists like John Lennon pieces by Yoko Ono, Maurice Sendak (Where the Wild Things Are) and Caldecott medalist Jared Pinkney (The Little Mermaid) hung at our properties to enhance the experience of our customers, "said Dus. .
"At our Freeman Berkshires property, we have tennis courts, 40 acres of property, its own pond, two dining rooms, exercise rooms, game rooms and a library," he said. "If you compare that to a standard hotel room in the Berkshires this weekend, it'll cost $ 450 for a single bed and not much else. You just got your room.
Shared Estates aims to expose travelers to new experiences. For example, every Shared Estates property has Oculus virtual reality headsets.
"When was the last time you checked into a hotel and there was an Oculus headset there?" Dus said.
He is quick to point out that this is not a timeshare. Investors do not have the option of choosing a block of time to stay in the vacation rental property. Rather, they are co-owners of that particular property, and they will earn a return based on the amount of their investment.
"We are giving investors a 15% discount on our nightly rate, and we are giving a 20% discount to any customer with a personal address in Berkshire County," Dus said. "But we are not a timeshare. Complete stop. "
Who can invest in a Shared Estates project?
In the past, investing in real estate projects like this was often reserved for extremely wealthy people who could afford hundreds of thousands of dollars or even millions of down payments and deposits.
But thanks to the changes in the law, if you have as little as $ 1,000, you could have invested in a shared domain project such as the Freeman Berkshires and owned a portion of that stake in that LLC.
"This opens up real estate investment to the masses at a time when house prices are rising and real estate investing is moving further and further away for most people," Dus said. "He's a real game changer. We have people from Wall Street investing, but we also have a lot of people in the local community investing in our projects.
"It's particularly compelling to me because I grew up here. My mom is a teacher and my dad ran a martial arts school and was an engineer. So we would pass these areas, and I would watch them but I never dreamed of being able to set foot there, let alone being able to own them.
Dus said teachers, truck drivers and other area residents have invested in a Shared Estates property. He calls the recent legislation a boon for small investors.
"Historically, you had to be a qualified investor to invest in private equity deals, and you had to be worth a million dollars or more to be a qualified investor," he said. "And now that dynamic has completely changed. You can invest very small amounts of money as long as you are over 18.
Another goal of Shared Estates is to make every property as public resource as possible. Each property donates 1% of its net income to a local charity. The Freeman Berkshires Project donates to the Elizabeth Freeman Center, a Pittsfield-based nonprofit that fights the cycle of domestic violence. The Kemble project at Lenox will donate its 1% to the Lenox library system.
Shared Estates also strives to connect its clients with local service providers, such as names of local dance teachers, local yoga teachers, caterers and massage therapists.
"Properties are a major driver of the local economy," said Dus. "In addition, properties generate property tax revenue for schools and cities. "
How do investors make their money?
Like most other investments, Shared Estates makes annual distributions based on the size of the property in proportion to each investor's total capital raised. In the case of the Freeman Berkshires, it was $ 890,000. So if you invested $ 10,000, you would own 1 in 89th of the property.
As the money is raised through all the different rental cash flows – Airbnb, VRBO, Flipkey – the investor recovers capital through what is called a 'cascade', which flows from the income. the highest – or gross -. Costs are deducted and the rest of the money – the net – is distributed to investors over time until they get all of their money back, plus an 8% preferential return on top of their invested capital.
Once investors earn their principle and that preferred 8% return, they receive 80% of all returns until they have doubled their money. Beyond a doubling of their initial investment, they perceive 60% of the profitability of the property.
To learn more about real estate investing with Shared Estates, you can visit sharedestates.fund or log in on Facebook. You can also call (917) 808-6377 for other questions.