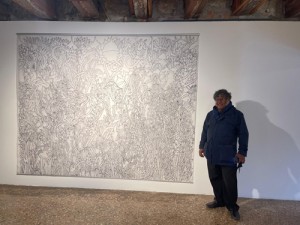 'I am first an activist, then an artist' | Print edition
Chandraguptha Thenuwara talks to Anoushka Jayasuriya about her exhibition at the prestigious Venice Biennale
Views) :
This is only the third time that a Sri Lankan artist has been presented at the prestigious Venice Biennale, and this time the honor goes to renowned artist Chandraguptha Thenuwara who will represent the country with his installation as part of the exhibition. "Personal Structures" presented by the European Cultural Center (ECC) Venice.
The 2022 Venice Biennale, an international exhibition of contemporary art held every two years in Italy, opened on April 23 and runs for seven months ending on November 27. Since 2011 the ECC has presented artists who break all ideological, political and geographical barriers and this year has 192 artists from 51 countries whose work will be presented in three historic Venetian venues – Palazzo Bembo, Palazzo Mora and the Marinaressa gardens, in the heart of the city.
"My works are a response to my social, cultural and political environment," says Thenuwara whose sculpture for the Venice Biennale titled "Covert" is an installation described as "an endless vortex of interlocking patterns constructed from threads that bind and merge". .
Thenuwara told The Sunday Times that his inspiration prompted him to criticize officials' use of religious extremism and militarization to gain power. Among the representative images he used in this installation is the lotus: "This innocent symbol that belonged to a personal space was used by politicians for political purposes. It used to be a white lotus representing peace but this lotus that I incorporate into my work is a symbol of power.
The installation shows four hidden figures of soldiers bearing arms and standing to attention while saluting – the barbed wire is used in reference to the final stages of the conflict in 2009. "The barbed wire and the divisions have been there for so long that it has become confused with thorns in nature: natural barriers.This work symbolizes my critique of war and the continued marginalization of non-Sinhalese Buddhist communities, representing a range of unresolved grievances.
The central theme of the Venice Biennale this year is that of reflections, precisely "which embodies the double meaning of a visible episode perceived by the eyes and of a mental act resulting from the action of thinking and meditating with the mind ". Thenuwara shares that he started working on "Covert" last year and started building the installation in February this year, adding that his work has been impacted by the current situation prevailing in the country. "My works are essentially a reflection of what is happening locally. After all, I am above all an activist.
Speaking about the potential of art to bring about social change, Thenuwara again referenced the current crisis saying, "Look at Galle Face. It is the art of the people. It is a performance for greater change. They suffer but they sing, play and shout; it's all a form of artistic expression. Projections on building, visual messages; it's all contemporary art. The symbolism they carry is made by artists; when something happens through change, it's better to speak through art than to use "political" language, and that's why politicians are afraid of art. Sometimes people are also afraid of art because of its power. As Joseph Beuys says; 'Each man[woman] is an artist.
As an artist at the Saskia Fernando Gallery, where much of her work has been exhibited throughout her career, Thenuwara says her relationship with the gallery is "also a political act." "It's a local gallery immersed in the political culture of Sri Lanka and its politics and I think that relationship is very important." Also presented this year at the Venice Biennale and represented by the Saskia Fernando gallery, the Belgian artist Saskia Pintelon has taken up residence in Sri Lanka.
During his decades-long career, Thenuwara, originally from Galle, has drawn attention to the depiction of contemporary events through symbolism and ideas that deal with the country's political landscape, human rights, conflicts and difficulties. In 1997, the artist began presenting his self-organized memorial exhibitions, held annually on July 23 to commemorate the "Black July" riots of 1983. The shows began with a series titled "Barrelism," which included a a number of works where Thenuwara depicted the growing militarization of the country with a series of barrels in various mediums, which were seen at barricades and checkpoints across the country.
Thenuwara first studied painting at the Institute of Aesthetic Studies at Kelaniya University before continuing his studies at the Surikov State Art Institute in Moscow, Russia. He followed this with an MPhil at the Post Graduate Institute of Archeology (PGIAR) at Kelaniya University in 2006. In 1993 he founded the Vibhavi Academy of Fine Arts (VAFA), an art school artist-led alternative. He is currently a professor in the Department of Art History and Theory of the University of Visual and Performing Arts and Director of the Internal Quality Assurance Unit of the University of Visual and Performing Arts in Colombo.
Thenuwara's work has been exhibited locally and internationally since 1978 and is in the collections of Queensland Art Gallery Australia, Fukuoka Asian Art Museum Japan, John Moore's University Art Collection Liverpool and the Fine Arts Museum of Udmurtia, Izhevsk, Russia. He also created public monuments such as the Seeduwa monument to the missing and the monument to Neelan Thiruchelvam in Kynsey Terrace, Colombo.
Thenuwara's installation is at the European Cultural Center – Palazzo Mora, Strada Nova, Venice.
Looking for an ideal partner? Find your soul mate on Hitad.lk, Sri Lanka's favorite marriage proposal page. With Hitad.lk marriage ads, you have access to thousands of ads from potential suitors who are looking for someone like you.