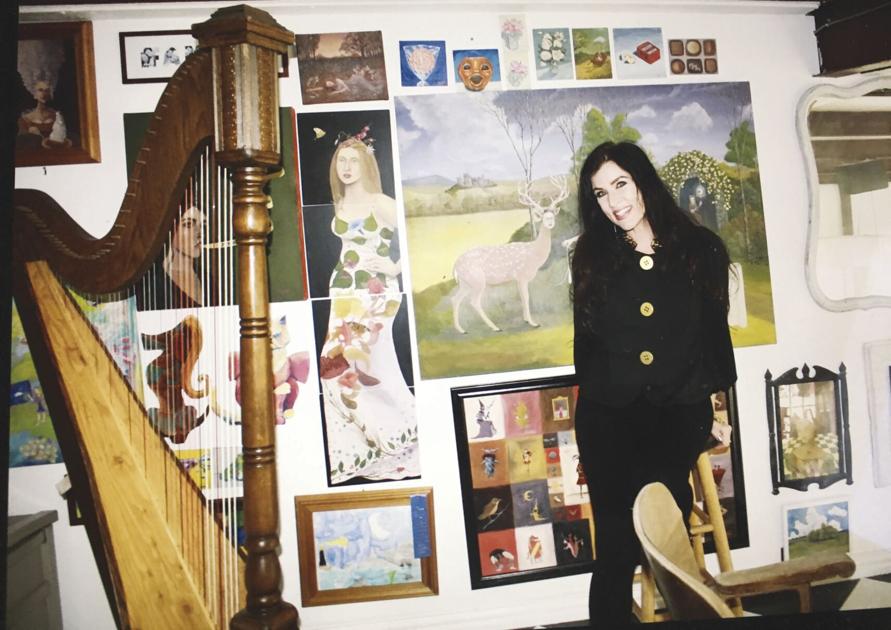 Irrgang finds itself in perpetual creative movement | Lifestyles
She is an artist, a designer, an illustrator, a muralist, a designer, a knitter, a teacher, a musician, a singer, a circus aerial and a Girl Scout leader!
The vibrant and perpetually creative Laura Irrgang is perhaps best known locally for her "You Be You" mural on the wall behind the Uptown Forum in downtown Greenville.
In addition to the design and painting of the mural, which was sponsored by Hunt County Public Art, the multi-talented resident of Lone Oak has a wide range of artistic activities and skills.
Irrgang paints fine art and works as an illustrator. Currently, she is waiting for the delivery of a knitting book that she illustrated.
"This is the world's first graphic knitting novel," she said during a recent special lunch break at the Audie Murphy American Cotton Museum. "The book will be available in 2022.
Not only does she excel in the visual arts, but Irrgang also plays the harp and sings. She started and ended her presentation at the museum with music.
Irrgang's slideshow at the museum included his "Fall Series" of paintings, which were on display at the Texan Theater in the fall of 2020.
"I love country music," she says. "It reminds me of my grandparents and brings me comfort and joy. I also love fall, Halloween, harvest festivals and knitting. I created images of country artists during the fall season. I imagined Johnny Cash in a scarf, bringing home apples in June. I painted George Jones and Tammy Wynette stargazing (before "DIVORCE") and Charlie Pride with the perfect pumpkins. Dolly Parton drives a yellow van and Buck Owens and Roy Clark of "Hee-Haw" are in tandem. Loretta is making soup. Merle Haggard relaxes with candles and Willie Nelson burns leaves.
For every star in the country, she designed patterns, for the fabric or for the backdrops.
"I like to do model design," she said. "Sometimes I use the model as a starting point." Irrgang teaches an online skill sharing course. Currently, she teaches her students the "Acrylic Skills Sharing Challenge: Five Days of Fall".
Before she started painting the "You Be You" mural, Adam, Irrgang's husband, built scaffolding for her to work on the Payne's Upholstery wall in the parking lot of the Uptown Forum.
"I researched which fish are native to the lakes in Hunt County and North Texas," she said. "Fish
are stylized in the mural to make them more colorful and fun. It took six months to finish the mural, and I was able to finish it as soon as the pandemic started. I love seeing the photos with the birthday fish as well as other photos as people pose in front of the mural.
Irrgang varies his style of painting by employing several different mediums.
"I work in oils and acrylics," she said. "I also work with an iPad using Procreate and an Apple Pencil to make the art look like a number of mediums. I paint as I do on canvas except that I do it digitally. You can make it look like many traditional mediums, from pastel to ink drawing.
"For my gallery art, I work in a surreal way. I did a painting for an exhibition called "The Flor de Vida" in tribute to Frida Kahlo at the Bath House Cultural Center in Dallas. The painting is called "The Three Fates" and is an allegory of the Greek myth of the goddesses with Kahlo depicted as a deer. I am there as one of the spinners.
"I created abstract art trying to replicate the agate rock formations that we have in Texas. With this technique, I pour paint, add chemicals and use a blowtorch.
In 2018, Irrgang was inducted into the Texas Chapter of the National Cartoonist's Society in honor of her online comic entitled "Glitterville."
"I have a very rude cranberry narwhal named Nadine that nobody likes," she said. "Her friend Eunice is a unicorn. While Nadine is rude, Eunice is pathologically positive.
"I wrote 'Glitterville' until the pandemic. It just seemed a little fluffy at the time, so I created a new cartoon called 'Gregg' as a comic book representation of our neurosis. Gregg is a huge green pickle and struggles to wear a mask because he has no ears or nose. He anxiously goes through the ordeals of social distancing and shopping. "
Irrgang Art Studio can only be described as fabulous.
"The studio is divided into three parts," she said. "In the Fiesta room, I have folk art, Mexican sculptures and masks. The Halloween room, which is used to make holiday items, has orange and yellow striped walls that were difficult to paint. The Scheherazade room is based on the story of 1001 nights with lanterns with faux stained glass scenes and a swinging bed.It is also used as a guest bedroom.
When she got the chance to be a part of Circus Espana, the artist made her dream of a to-do list come true.
"I spent the whole month of September playing in a circus," she said. "Circus Espana is a fifth generation circus that spends its off season in Greenville. In Little Elm, I played lyra, which is also called an aerial hoop. I do high figures.
Irrgang serves as the Girl Scout troop leader.
"My daughters Piper and Violet go to school in Lone Oak," she said. "As it is a small neighborhood, our troop includes girls from kindergarten to college. We went to the Betty Perot camp near Palestine where the scouts were able to ride horses and learn to archery. The troupe was also able to spend a slumber party at the Perot Museum of Nature and Science in Dallas.