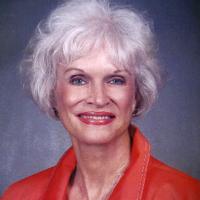 Jeannie Hibbs | Obituaries | tylerpaper.com
Jeannie Hibbs

TYLER — Eugenia Ann (Stroud) Hibbs, 83, died at her home on Saturday, January 8, 2022 of natural causes. "Jeannie" was a loving wife, mother, grandmother, and friend who was funny, smart, sassy, ​​generous, and supportive. She was a true "Renaissance woman" who helped make the world a better place. Survivors include son Billy E. Hibbs, Jr., daughter-in-law Tisa Weiss Hibbs, grandson Stratton Weiss Hibbs, granddaughter London Elizabeth Hibbs, brother Michael Glenn Stroud, and nieces, nephews, and cousins.
Jeannie was born on February 21, 1938 in Bonham, Texas to Alvis Eugene and DeDee Hill Stroud. She grew up in Mineola, Texas, the daughter of a Texas & Pacific Railroad engineer and a homemaker. Baptized into the Church of Christ, she graduated in 1956 from Mineola High School. She met Billy Hibbs, the love of her life, at a football game, and they became lovers for life. Shortly after graduating from Billy's Quitman High School, they married on June 2, 1957 and were blessed with their only child 9.5 months later. They were married for 48 years before Billy succumbed to early onset Alzheimer's disease in 2005.
In her early years, Jeannie enjoyed a successful career as a model and actress. She also helped Billy establish and grow a local insurance agency into one of the largest such organizations in the country. Beginning with Hibbs-Hallmark & ​​Company in the 1960s, the business has grown to include 7 different insurance and risk management firms now collectively known as Heartland Security Insurance Group. She was also active in the family real estate business Hibbs Financial Center. In the late 1970s, Jeannie co-founded "The Willows" art gallery. Her knowledge and love of art played an important role in the Heartland Security Insurance Group and over the course of two decades she selected over 400 pieces of "early Texas art" to beautify the various offices. from Heartland. Jeannie strongly believed that art and furnishings would have a positive impact on the morale and attitude of everyone in the office. Landscaping was her next focus when she designed a sculpture garden at Heartland's headquarters in Tyler. For over 15 years, Jeannie served as Honorary Chair of the Heartland Board of Directors and loved all of the wonderful people associated with the family business. As president of the Hibbs Family Foundation since its inception, she has overseen contributions to local and global Christian missions, nonprofits, education, and the arts.
She has participated in the Tyler Rose Festival, Sister Cities, Women's Symphony League, Katherine Speas Junior Garden Club, American Contract Bridge League, Tyler Duplicate Bridge Club, CASETA (Center for the Advancement and Study of Early Texas Art) and at the Tyler Civic Theater. where she has appeared in many plays over the years. The Boy Scouts of America presented her with the "Distinguished Citizen Good Turn Award" in 2013. She was also instrumental in founding the Hibbs Institute of Business and Economic Research at the University of Texas at Tyler. Jeannie and Billy had been active members of Marvin United Methodist Church since 1982 and members of the Pairs and Parents Sunday School class.
Jeannie was lovingly cared for in her home by her family and trusted caregivers Brenda, Anel, Elizabeth, LaSonya and Jacinta. A celebration of life will be held at Marvin United Methodist Church on Friday, January 14 at 3:00 p.m. in the main sanctuary under the direction of the Stewart Family Funeral Home. The honorary holders will be the directors of Heartland Security Insurance Group. In lieu of flowers, the family requests that donations be made to the Marvin United Methodist Church Music Ministry, Marvin Eternal Flame Fund, Marvin UMC Foundation, or charity of your choice. Stream the service live on:
marvinumc.com/ministries/memorial-service
.