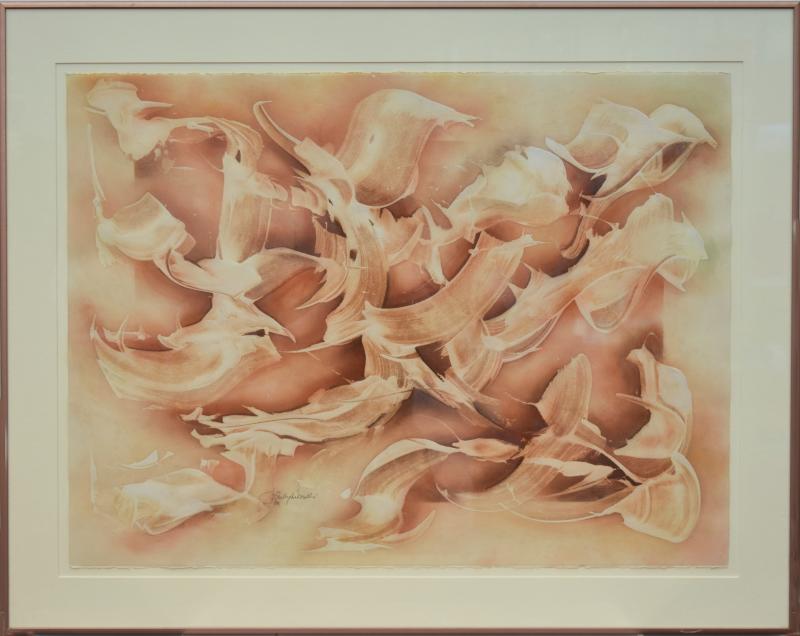 Lee Wayne Mills Pride Exhibition to Open June 5
CAMP Rehoboth is organizing A Celebration of Life with Pride: In Honor and Memory of Lee Wayne Mills, a new summer exhibition and sale of Mills' works from Saturday June 5 to Saturday July 3, in CAMP Rehoboth Gallery and Elkins-Archibald Atrium at 37 Baltimore Ave., Rehoboth Beach.
The prolific local artist passed away in the summer of 2020 and requested that some of his artwork be donated to CAMP Rehoboth, and that the proceeds from the artwork sale be used to support CAMP Rehoboth's YouthUP! and other programs, as well as purchases of art supplies.
Mills built his art on the basis of abstract expressionism. He said: "All my works echo the fragmented and ever-changing moments of my life, dancing, descending, at that moment – a gathering of emotions and ideas – gestures and strokes of paint, ink , pieces of fabric and paper and intertwined shapes.
Mills had many ties to the Rehoboth region. He and her husband Don owned and operated the Coastal Frame Shop and Gallery. In 2015, he was appointed Acting Executive Director of Rehoboth Art League.
Locally, he was represented by Gallery 50, Philip Morton Gallery and the Peninsula Gallery. Mills also supported the community by donating her work to CAMP Rehoboth's Sundance and HeART auctions. His art resides in many local collections, as well as corporate and private collections across the United States.
This exhibition takes place in conjunction with Pride Month 2021 and provides plenty of opportunities for visitors to view and purchase works.
"This exhibition and events provide a chance to obtain a one-of-a-kind work of art, to support CAMP Rehoboth's programs supporting youth and the arts, and to celebrate the 'life with pride' of the artist." said Leslie Sinclair, CAMP Rehoboth Artistic Director and Board Member.
Some of Mills' art will be on display in the courtyard of the Craft Market at CAMP Rehoboth on Friday, June 11, and tours of the art in the gallery and atrium will be offered.
CAMP Rehoboth will host a Proud Celebration of Life Reception with a chance to socialize and see the artwork available for purchase from 4:30 p.m. to 6:30 p.m. on Saturday, June 19, in the courtyard.
For collectors who cannot make it to CAMP Rehoboth, the art will be displayed and available for purchase at camprehoboth.com, in the online gallery under "shop".
Those interested can also stop by CAMP Rehoboth between 10 a.m. and 4 p.m., Monday through Friday.
To arrange private tours, email [email protected]