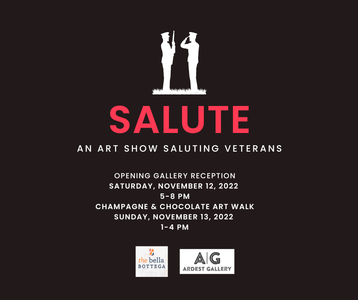 Local art gallery hosting a veteran tribute show
MAGNOLIA, TX – Ardest Gallery, within the Bella Bottega working artist community located in Magnolia, TX, is set to host its November event titled "SALUTE," an art exhibit saluting veterans.
GREET. An art exhibit saluting veterans
"To celebrate Veterans Day, we are highlighting local veteran artists and works that honor them. The upcoming curated exhibition provides a platform to showcase a variety of artwork by local veteran artists, in a variety of styles and mediums," said Julie Verville, Gallery Director and Curator. "This particular show was also open to works by artists who salute veterans in their style or message."
La Bella Bottega is a working artist community located in Magnolia, consisting of 10 working artists and a fine art gallery. Support for veterans is a ubiquitous common thread in the community, as one artist is a Vietnam veteran, 2 are retired military spouses, and the son of another has served.
To strengthen our support for the local veteran community, a percentage of proceeds from the SALUTE Art Exhibit will benefit VFW Post 4709 serving 35K+ veterans in Montgomery County. Additionally, artist Melanie Wade Leslie will provide financial support by donating a percentage of her artwork sales to Henry's Home, an organization providing equine therapy to veterans and their family members.
The show's opening reception will take place on Saturday, November 12 from 5-8 p.m., followed by an open community workshop and art walk on Sunday, November 13 from 1-4 p.m.
This November art exhibition will feature works by local guest artists from the following veteran artists:
• Dan Hayes – United States Air Force
• Gaw Jones – Master Sergeant, Infantry Marines
• Bonafacio Luna – US Army
• Kate Rhoad – Spec 5 Medical Service Corps, US Army
• Ron Robare – Vietnam Veteran, shore-based sailor
• Jason Turner – US Army, 1st Calvary Division
And, works that salute the veterans of the following artists:
• Abigail Gomez
• Michelle L Huff
• Jay Laxton
•Jeffrey Lung
• Michele Patton
• Rusty Rhoad
"This event supports our artist collective's mission to support the local arts community through collaboration," added Verville.