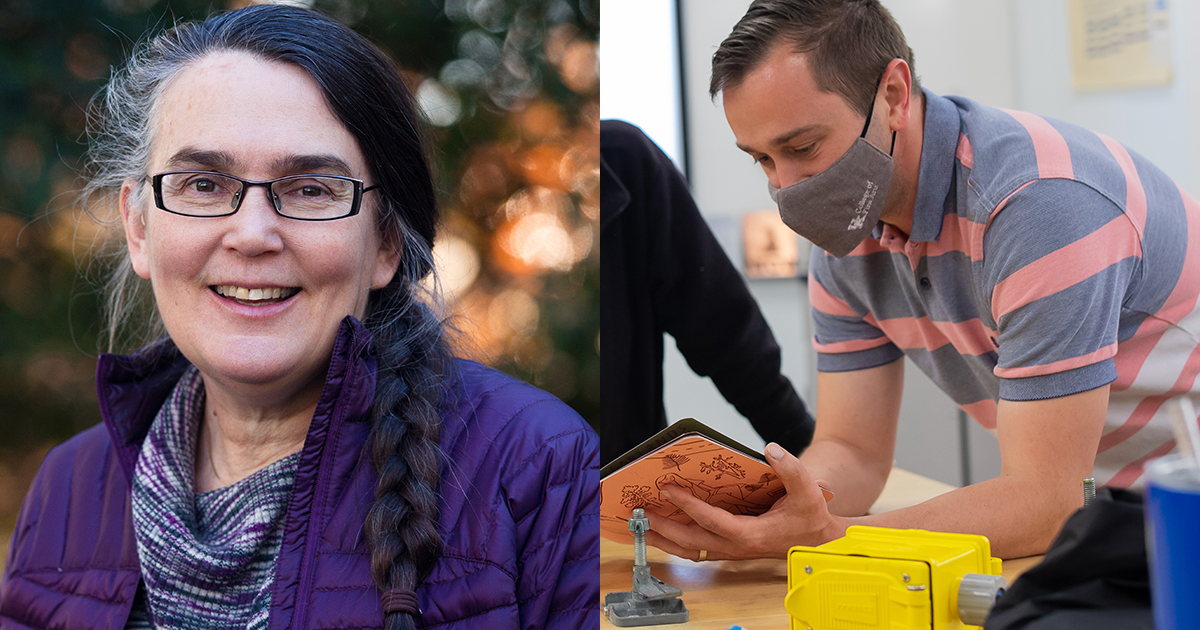 Outstanding UK teachers receive 2022 Kirwan Prize and Sturgill Prize
LEXINGTON, Kentucky (May 3, 2022) — Two University of Kentucky faculty members are recipients of the Graduate School's two annual Distinguished Awards for exemplary research and outstanding contributions to graduate student mentorship and education.
Susan Gardnerteacher at Department of Physics and Astronomy in the British College of Arts and Sciencesreceived the 2022 Albert D. and Elizabeth H. Kirwan Memorial Award. The award is given annually to a faculty member in recognition of outstanding contributions to original research or scholarship, with emphasis on the work produced four years before the prize.
Jonathan McFaddenassociate professor at School of Art and Visual Studies (SA/VS) in the British College of Fine Artsreceived the William B. Sturgill Prize, an honor awarded annually to a graduate faculty member who has made an outstanding contribution to higher education in the UK.
Gardner and McFadden were recognized at the annual Faculty Awards ceremony in the UK on April 21.
Susan Gardner — 2022 Albert D. and Elizabeth H. Kirwan Memorial Award Recipient
Gardner is a theoretical nuclear physicist in the UK Department of Physics and Astronomy, with broad research interests and a long publication record spanning the fields of nuclear physics, particle physics and astronomy.
"During her distinguished 27-year career in the UK, Gardner developed an international reputation not only as an extraordinarily creative and original theoretical physicist, but also as an international leader in the field, bringing considerable attention to the department and the UK," said Bradley Plaster, chair of the UK Department of Physics and Astronomy in her appointment letter. "As one of the few women in her department, Gardner was also a pioneer trailblazer for women in physics, a discipline that has lagged far behind other STEM disciplines in the percentage of women who have earned degrees and gone on to become professors. ."
Early in her teaching career, Gardner wrote several influential theoretical papers (in top journals in the field; now with hundreds of citations) that shaped the course of experimental work by thousands of experimental physicists. In recent years, she has focused on proposing innovative new ideas for the search for new physics beyond the Standard Model. With his collaborators, Gardner proposed a new "fifth force" (there are four known forces in nature: gravity, electromagnetism, weak nuclear force and strong nuclear force). This work has been highly cited since its publication in 2016 and 2017 in the two leading journals in the field.
Gardner has also recently expanded its research portfolio beyond the fields of nuclear and particle physics. Since 2017, she has published a series of articles in leading astrophysics journals on evidence of asymmetric ripples in the inner stellar disk of our galaxy, the Milky Way, which was previously thought to be smooth.
Gardner's long and distinguished professional experience in nuclear physics has also resulted in numerous honors and awards. This includes being appointed University Research Professor for the 2019-2020 academic year; a Fellow of the American Physical Society in 2013 (restricted to the top 0.5% of Society members, excluding student members); and being continuously funded by the Department of Energy since 1996.
Jonathon McFadden — 2022 William B. Sturgill Award Recipient
Jonathan McFadden is Associate Professor at the UK School of Art and Visual Studies (SA/VS). He has been at the university since 2013, during which time he has mentored and advised countless graduate students. Additionally, he serves as a graduate advisor for SA/VS and teaches the graduate seminar for all Master of Fine Arts (MFA) students.
"Dr. McFadden has a genuine desire to work closely with and effect change in the lives and careers of our MFA candidates," said Ruth Adams, Acting Director of SA/VS. "Year after year, there have always been students in the incoming pool who applied to our program specifically to work with McFadden. It is his reputation as a respected teacher and mentor, with his colleagues at other universities and through his professional organizations, that generates this pool of incoming candidates.
One such student is Marika Arellano Christofides, an MFA candidate in SA/VS who will graduate in May.
"During my three years at the School of Visual Arts and Studies, Professor McFadden was deeply invested in my professional development," Christofides said in her appointment letter. "He constantly encourages all graduate students to apply for exhibitions, residencies and conferences – often sharing specific opportunities as he finds them."
Todd Herzberg, an assistant professor of art and design at Murray State University and a 2018 UK MFA graduate, says McFadden was his main adviser, teacher and mentor in the UK, who worked with him and his classmates to prepare for success after graduation.
"He worked with graduates to learn how to develop our artistic voices, think more critically, and understand how we fit into the contemporary art scene," Herzberg said in his nomination letter. "I was doing work that explored personal narratives, but with Jonathan's help he pushed me to think more deeply about the work I was doing and to understand how to understand the broader conceptual/theoretical landscape in which it existed. . This better understanding of my work has allowed me a richer understanding of my own artistic practice, and honestly, a better understanding of myself as a whole.
McFadden holds an MFA in printmaking from Edinburgh College of Art, a BFA in printmaking and a BA in French from Texas State University. Her work has been exhibited at the National Gallery of Scotland, Royal Scottish Academy, University of Texas-San Antonio, University of Wisconsin-Madison, University of Minnesota, 621 Gallery (Tallahassee), Salisbury University, Highpoint Center For Printmaking (Minneapolis), Wichita State University, Millsaps College, 55 Limited (Berlin, Germany), Spartanburg Art Museum (Spartanburg, SC) and many other national and international venues.
He has also been artist-in-residence at the Highpoint Center for Printmaking, 55 Limited, Anchor Graphics at Columbia College, Prairie Center for the Arts and Cove Park.
****
The Kirwan Memorial Prize was established in 1995 and recognizes the collaborative research efforts of its namesakes, as well as Albert Kirwan's efforts to create an environment in the UK that fosters high quality research and scholarship.
Head football coach from 1938 to 1944, then dean of men, "Ab" Kirwan was a distinguished faculty member and scholar in the field of Southern history, dean of the Graduate School and president of the university from 1968 to 1970.
Elizabeth Kirwan was awarded the Sullivan Medallion in 1973 for her service to the UK and to the community of Lexington. She has held leadership positions in over 10 organisations, including President of the UK Woman's Club and Chair of the Lexington Parks and Recreation Board.
Established in 1975, the Sturgill Prize is named in honor of alumnus William B. Sturgill, who contributed to higher education by organizing and serving as president of the Hazard Independent College Foundation, in addition to work with legislators to develop the community college system across the Commonwealth.
Sturgill, who died in 2014, was born in Lackey, Ky., and graduated from the UK in 1946. He was involved in a variety of businesses, including running and owning several coal operations, East Kentucky Investment Company, Fourth Street and Gentry Tobacco Warehouses. and the Hartland Development Project. Sturgill served as both energy secretary and agriculture secretary under Governor John Y. Brown Jr. He served for 18 years on the UK board, including 10 years as chairman. The Sturgill Development Building is named in his honor.
For more pricing information, visit https://gradschool.uky.edu/faculty-awards.