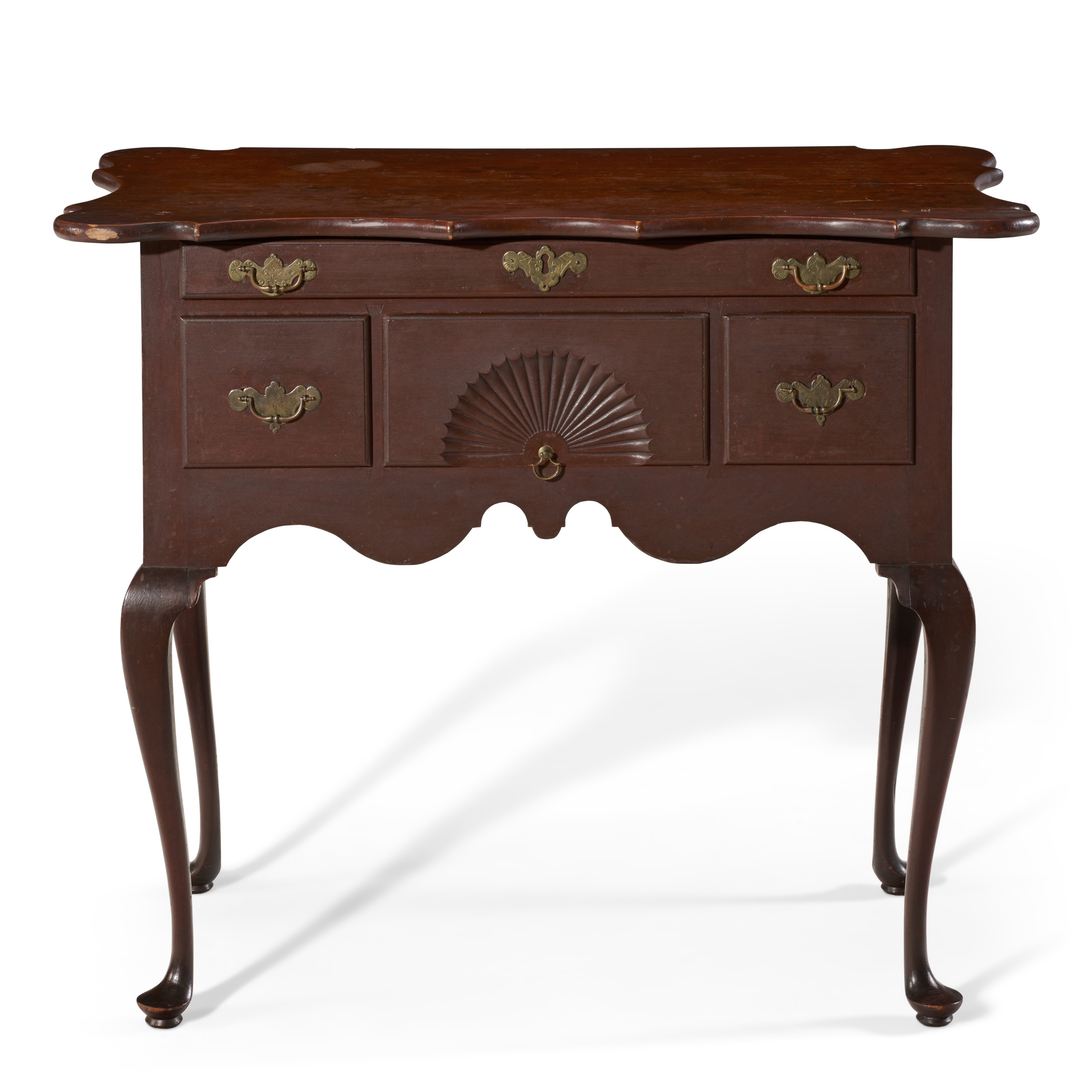 QUEEN ANNE CARVED CHERRY STYLING STYLING
With its scalloped top and curvy skirt, this dressing table is a masterful expression of the regional style of the Wethersfield, Connecticut area of ​​the late 18th century. The painting was featured in the acclaimed 2005 study by Thomas P. Kugelman, Alice K. Kugelman and Robert Lionetti and noted that it was closely related to the "Wilcox Group", a group likely formed by a craftsman trained in Wethersfield. and who later moved to nearby Middletown. Details such as side aprons with flattened arches, angled knee returns in the back, slender ankles, and drawer sides with rounded tops are features seen on this group and the dressing table offered here (Furniture from the Connecticut Valley: Eliphalet Chapin and his contemporaries, 1750-1800 (Hanover, New Hampshire, 2005), p. 121-125).
As Leigh Keno's statement to Peter Goodman recounted in 1987, Bill Samaha recalled that the dressing table was purchased for $ 400 by his father, George Samaha, in Berlin, Connecticut, circa 1941 from an elderly resident known as name of "Old John", who lived across the street from Angie (Angeline) Horton. Horton lived on Worthington Ridge Road and in 1930, as did eighty-year-old John Hudson Webber (1850-1932). Webber died before the dressing table was supposed to be purchased in 1941, but he presents himself as a very likely candidate for the table owner in the early 20th century and it is possible that George Samaha acquired the table a decade earlier than foreseen. If the dressing table had descended in Webber's family, it was most likely made by one of his wife's great-grandparents, many of whom were married in the area in the 1780s. Given the affinity Closely related to the dressing table with the 'Wilcox group' of Middletown, an intriguing possibility is that the table was designed for Sarah Wilcox (1760-1842) who married Abel North (1761-1839) in Middletown in 1788. Abel and Sarah ( Wilcox) North were the great-grandparents of Mary Elizabeth Andrus / Andrews (1860-1927), wife of John Hudson Webber and the probable person later known as "Old John". Sarah was the sister of Joseph Wilcox (1741-1832), owner of the tall chest which gave this group the name Wilcox and, coincidentally, the Joseph Wilcox tall chest is offered for sale at Christie's, New York, Important Americana, January 20-21, 2022.