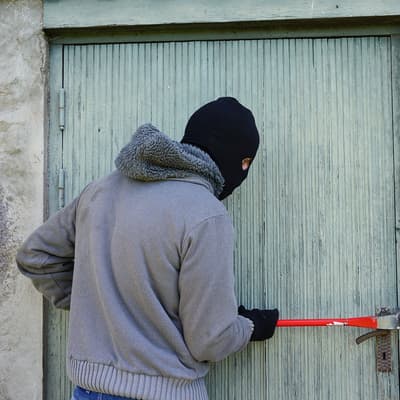 Rising temperatures in the southwest increase the risk of burglary
An insurance expert is urging area homeowners to be extra vigilant about safety in hot summer weather.
The message to potential victims follows police warnings of a potential increase in home burglaries as temperatures soar.
Will McCarter, of insurance broker Lycetts, said: 'When the air gets warmer, people naturally tend to open more windows and doors.
"It's too easy to forget to secure them at night, making it easier for opportunistic burglars to attack.
"Burglars often target small, expensive items such as watches and jewelry because they can be easily found and sold quickly.
"A common mistake is to renew home insurance coverage each year without recalculating the value of the property, simply giving an 'informed estimate' of its value. The value of an item for insurance purposes is the price it would cost to buy it new, not what it cost when purchased.
"Getting legitimate appraisals is the surest way to be sufficiently insured.
"Owners should take detailed inventory – item by item, room by room – and be diligent about keeping receipts for high value items.
"Certain property, such as expensive jewelry, collectibles, heirlooms, valuable antiques or works of art, may require separate specialist coverage."
McCarter urged households to consider bolstering their home security with smart technology.
"We have seen an increase in the number of customers investing in smart home security systems and doorbell cameras, as well as app-controlled locks, smart motion sensor cameras and wireless light switches, which are all great ways to improve safety and reduce the risk profile of insurers.
"However, while the technology has its benefits, owners should be aware that it can also present risks.
"Social media can be a useful resource for would-be burglars because it can easily determine your daily schedules to determine when the house is most likely to be empty.
"Review privacy settings on social media platforms, avoid over-sharing information, and only share vacation photos once you've returned home.
"It's also important to check your home insurance policy, as some may pay less or not at all if you announced your absence on social media."