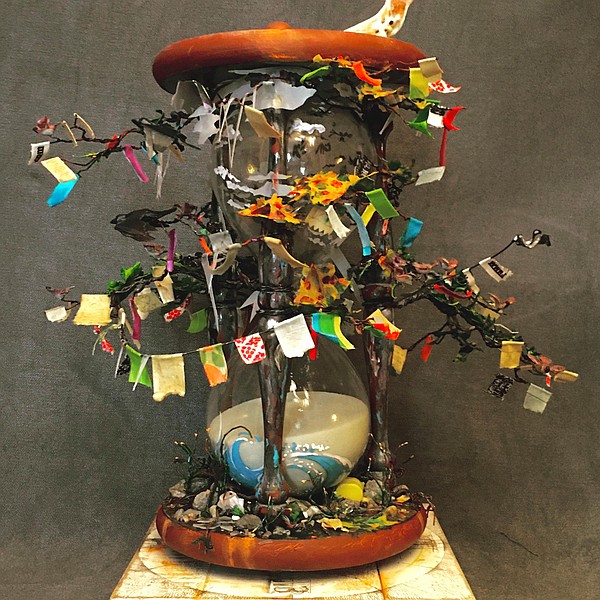 SAAC to host Bill Myers and Diane Stevenson exhibit next month
The South Arkansas Arts Center has announced a new exhibit titled "One Foot in Reality" by Gulf Coast artists Bill Myers and Diane Stevenson.
The exhibition will be on display at the Price Gallery from December 1 to 17 and at the Lobby Gallery from January 4 to February 3. An artist reception is scheduled for Thursday, December 2 from 5 p.m. to 6:30 p.m.
Large graphite and ink drawings of Myers on board will be on display, along with wire, wood and bone sculptures. His work has been exhibited in New York, New Orleans, and Chicago in galleries and museum exhibits. Last year he had a solo show at the Lois Lambert Gallery in Los Angeles.
Myers has received grants and scholarships from the Mississippi Arts Commission and Artist Fellowships, Inc., and was named Delta State Alumnus of the Year in 2009.
"I was born and raised in Moss Point, Mississippi to a family where 'the art' consisted of oversized head shots of us, the kids at the Olan Mills studio, hovering over the table from the dining room, "Myers said. "There was a bit of crafts from vacation Bible school projects; but no other art. A lady in our neighborhood painted and I went around my bike when she painted outside. was too shy to approach her; but many years later I became friends with her. She was 70 and I was in college, but she encouraged me to pursue my art. My first visit in a gallery and a museum was held when I was in college and we came school trip to New Orleans. I felt my eyes opened. Not having had any art at the school, I got my first look at a community where I could find a place for myself.
"I can't wait to return to El Dorado for an exhibition with my friend Diane Stevenson," Myers continued. "The exhibition will feature collages and drawings by Diane, and I will show illuminated drawings and mixed media sculptures and drawings. I hope to see old friends there. I missed the people of El Dorado!"
Stevenson will join Myers in his first exhibition at SAAC. Stevenson received an MA in poetry and a doctorate. in American Literature from Columbia University and spent many years teaching. Hailing from the Gulf Coast, she says her earliest art memory is a reproduction of Millet's "The Gleaners", reminiscent of a church hymn, "Bringing in the Geres". Stevenson grew up near the Shearwater Pottery in Ocean Springs, before venturing to New York.
"I'm mostly a poet, and while living in New York City, I spent time with a younger generation of New York School poets," she said. "They were doing poems, and they were making collages. These little works of art were often postcards that they sent by mail, a habit, I believe, that they took away from painters. The simple, overly simple answer may be this: poems, like collages, are small. However, this is not the case with my recent work. They are large compared to the usual modest scale. When collages get big they are likely to be put into a different category, 'assemblage' or 'construction,' especially if they are 3D and sculptural, but my work, while out of proportion, and sometimes a bit 3D , remain, I insist, of the 'collage'. "
"I am honored to show the work with the wonderful Bill Myers, who tells me, like all artists here, how great El Dorado is," added Stevenson. "In the meantime, as Bill pointed out, I am practicing pronouncing El Dorado the way the natives speak it and not the way it is spoken in the Howard Hawks Western. I hope I understand correctly."
For more information on this exhibit, call the SAAC office at 870-862-5474 or visit saac-arts.org. SAAC is located at 110 E. 5th St. in El Dorado.
"SCRAWL 4", by Diane Stevenson is displayed. The collage on paper was created using a pen, pencil, colored marker and cutouts in random patterns. (Contributed)