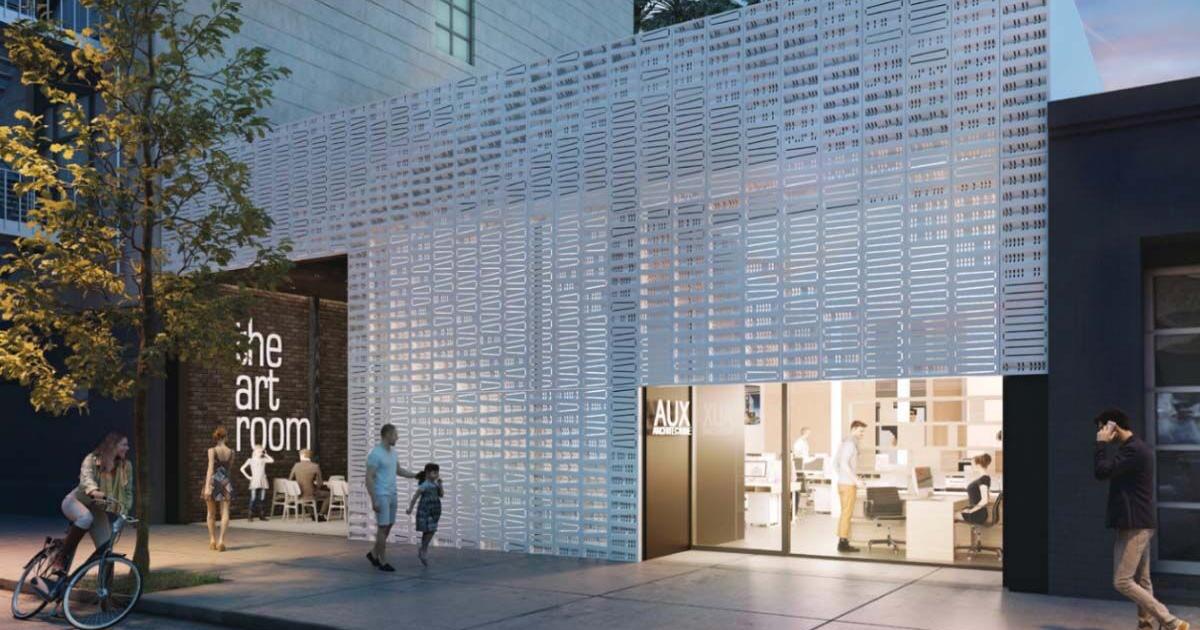 The Art Room hopes to become a neighborhood hotspot | Restaurants
A restaurant, an art gallery and an architectural firm came together to create The Art Room in Downtown LA.
Chef D. Brandon Walker has partnered with AUX Architecture and Seasons LA to create a hybrid fast-casual dining experience and fair labor model.
"AUX is an award-winning architectural firm," Walker said.
"They decided to inhabit this space as their headquarters. Seasons LA is a very experienced outlet. They curate a really wide range of artists, which I really appreciate. I'm really excited for all of their upcoming shows, which happen to be booked through 2023."
Housed in a 1915 brick building, the 3,500 square foot cafe at 908 S. Olive Street was designed by AUX and won a 2021 Restaurant Design Award from the American Institute of Architects in Los Angeles.
Walker said he thought the timing of these partnerships was perfect and organic. The Los Angeles native is also inspired by his artist mother and an artist brother.
"I just think it was the right combination I was looking for to be around art, to be defined in that space," the co-founder of The Mar Vista restaurant also said. "But also being inspired by art as a chef."
The Art Room menu will draw on similarities to Walker's Mar Vista concept.
"We had a lot of success with The Mar Vista grab and go," Walker said. "It's really become a go-to place for Westsiders over the past five years, and I'm very excited to bring this tried-and-true menu downtown.
"I can't wait for the downtown district to enjoy some of the best tacos I can think of in town. Obviously, LA being a taco city speaks volumes.
Breakfast is served all day with staples such as fishcakes, spinach fritters, fried okra, mac and cheese, and lasagna. Walker said the average turnaround time for menu items is 9 minutes, making it a true take-out concept.
"The food is outstanding, and we also have fresh juices, full-service coffee, and a deli crate where you can select pre-made items," Walker said.
"It's just the place everyone wants in their neighborhood. I want to be able to go there when I'm walking my dog ​​or after dropping my kids off at school.
The restaurant will also offer an affordable evening family pick-up program, similar to that of Mar Vista.
"The differences I would talk about is the fact that we're now going to have a full bar," Walker said.
"Obviously I can bring any cocktail program and we can have a robust happy hour with that. Also, I'm planning on doing these elevated dining experiences by reservation only, kind of like a tasting menu in space. of the gallery itself.
For Walker, the hardest part of creating this concept was managing people's expectations after The Mar Vista was founded.
"I think the hardest thing is to keep the menus simple and down to earth, but to make it feel like a destination, a place where people want to come hang out and relax," said he declared.
"I think that's the fine line we're walking."
On the other hand, he enjoys working with his partners and putting this concept together.
As a chef, Walker's favorite part of his job is "without a doubt the interaction with others, whether it's my staff or my customers, that's what gives me the most joy."
"I'm not one of those chefs who likes to hide in the kitchen with my head down," admitted Walker. "Sometimes I like to do this to prepare a bunch of things and have everyone leave me alone. But I tend to want to interact, and I think that's where I have the most impact with everything I do.
A different employee experience
The Art Room is different in that Walker has created an employment model that champions a positive restaurant culture with fair pay and work-life balance.
"These have long been themes of my career as I was program manager at St. Joseph's Center, which is a non-profit organization that started in Venice, California, and has now expanded to the center of Los Angeles too," Walker said.
"I was there for 10 years, which really shaped a lot of my thinking about the kind of people we could employ in the industry and the kind of training that goes into what I would call 'investments' in our staff, and I think that's a beautiful thing.
Walker founded a culinary training program at the St. Joseph Center. This is a free program focused on training people who have experienced homelessness and those going through addiction treatment. Through this type of training, Walker said he believes his employees are being offered "a beautiful intersection of life and work and maintaining that balance."
"Because of this, I'm increasingly reminded of my attempt to have high hourly rates even before the $15 minimum wage," Walker said. "We do universal tipping, which increases the hourly rate by $3 to $4 per hour, so there's more balance between the front and back of the house."
In Walker's eyes, "everyone is doing everyone else's job" without any employee having a specific position. Art room staff can work in shift rotation and have a limit of six hours per shift.
"I truly believe in cross-training, and I believe that's how the restaurant industry will survive and thrive," Walker said. "All of these things are very important not only to me, but also to the community and to people who still view restaurant work as a career and not just a job."
The future of the art room
Due to pandemic-driven construction delays and supply chain issues with materials "sitting on a freighter off the coast of Portugal", an official opening date has not been scheduled.
"We're looking very strongly for soft openings and media events in mid to late March, and then I really think we'll be open to the general public in early April," Walker said.
When the doors officially open, Walker is "really looking forward to working with some of the existing nonprofits, such as the Weingart Center, Midnight Mission and St. Joseph's Center, as well as partnering with points." urban agriculture outlets such as Alma Backyard Farms. "
The art room
908 S. Olive Street