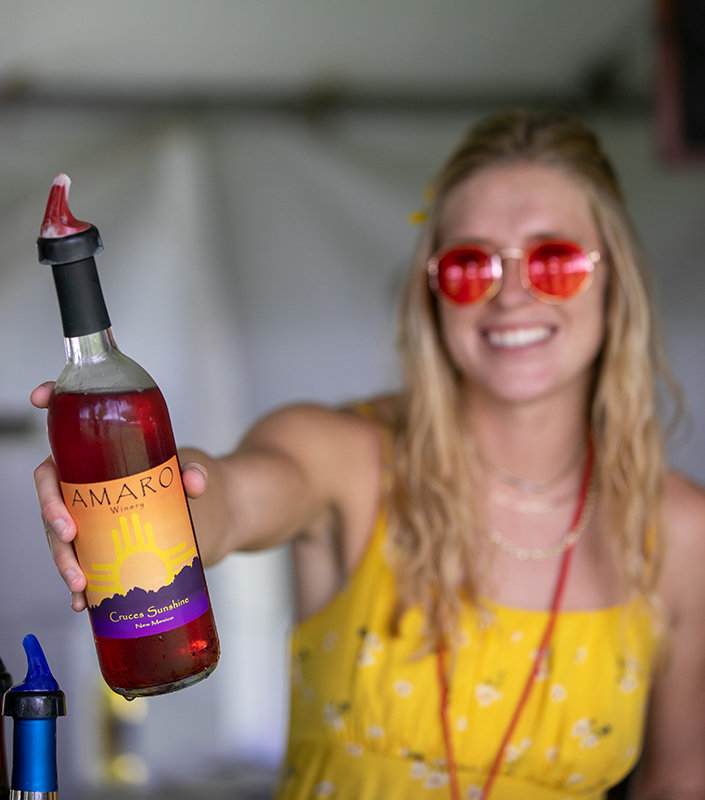 The New Mexico Wine Festival is in full bloom again
New Mexico Wine Festival Release
After a three-year hiatus, the New Mexico Wine Festival in Las Cruces returns this weekend, May 28and-30and. Hosted by the New Mexico Wine & Grape Growers Association, Memorial Weekend Wine Festivals have become a tradition for Southwesterners, offering attendees the opportunity to experience New Mexico's award-winning wines and buy directly from local producers.
Among the many exciting new elements of this year's events is the Wine Garden. Guests are invited to stroll through immersive garden environments and sample their favorite New Mexico wines while surrounded by fresh flowers, floral decor, local flower and plant vendors, and even try making their own flower arrangements. With a new look, new vendors and lots of food, the New Mexico Wine Festival is once again the official celebration of spring in New Mexico.
Our NM Wine Fest in Las Cruces returns to the Southern NM State Fairgrounds, featuring 16 New Mexico wineries, with over 200 wines available for free tasting or for sale by the glass, bottle or case. Many wineries will be introducing new vintages and offering festival-only discount prices on bottles and cases of these limited-edition products.
Nearly a dozen local food trucks will offer a wide range of menus, including slow-roasting barbecues, pizzas, waffles and New Mexican specialties, while the main stage will feature a wide range of electrifying live music ranging from country rock, latin, jazz up beat and 70s/80s classics. Shoppers are sure to find something to love among the 50 vendors selling artwork, clothing and accessories, wellness products and freshly baked delicacies including chocolates, salsas and pastries.
There will be on-site painting/crafting classes led by Mews Muse, learn to design and decorate your own sugar cookie classes by Enchanted Sweets, and build your own charcuterie board classes by Coco Appetite. There's also a free bottle check service so attendees can enjoy great music and food, knowing that any bottles they buy are kept safe by event staff. And to encourage attendees to take home their favorite wine, all tickets purchased will include $5 off any bottle of wine at the festival. NMwine.com has all the details and a link to the tickets.
Tasting tickets are $30 and include a commemorative wine glass, samples of New Mexico wines from all participating wineries, and $5 off any bottle of wine. Daily military discounts and designated driver tickets are also available. Doors open at 12 p.m. daily.
$1 from every ticket purchased will support the Vineyard Restoration Fund, an initiative to plant 200,000 new vines across New Mexico. By replanting our vineyards, we are making a long-term investment in our farmers and in the future of New Mexico's wine industry.
New Mexico Wine is the trade association of New Mexico wineries dedicated to promoting locally grown, handcrafted New Mexico wines. This year, the New Mexico Wine Festival will be the largest event yet and is designed to introduce people to the world-class quality of New Mexico wines in a lush setting.