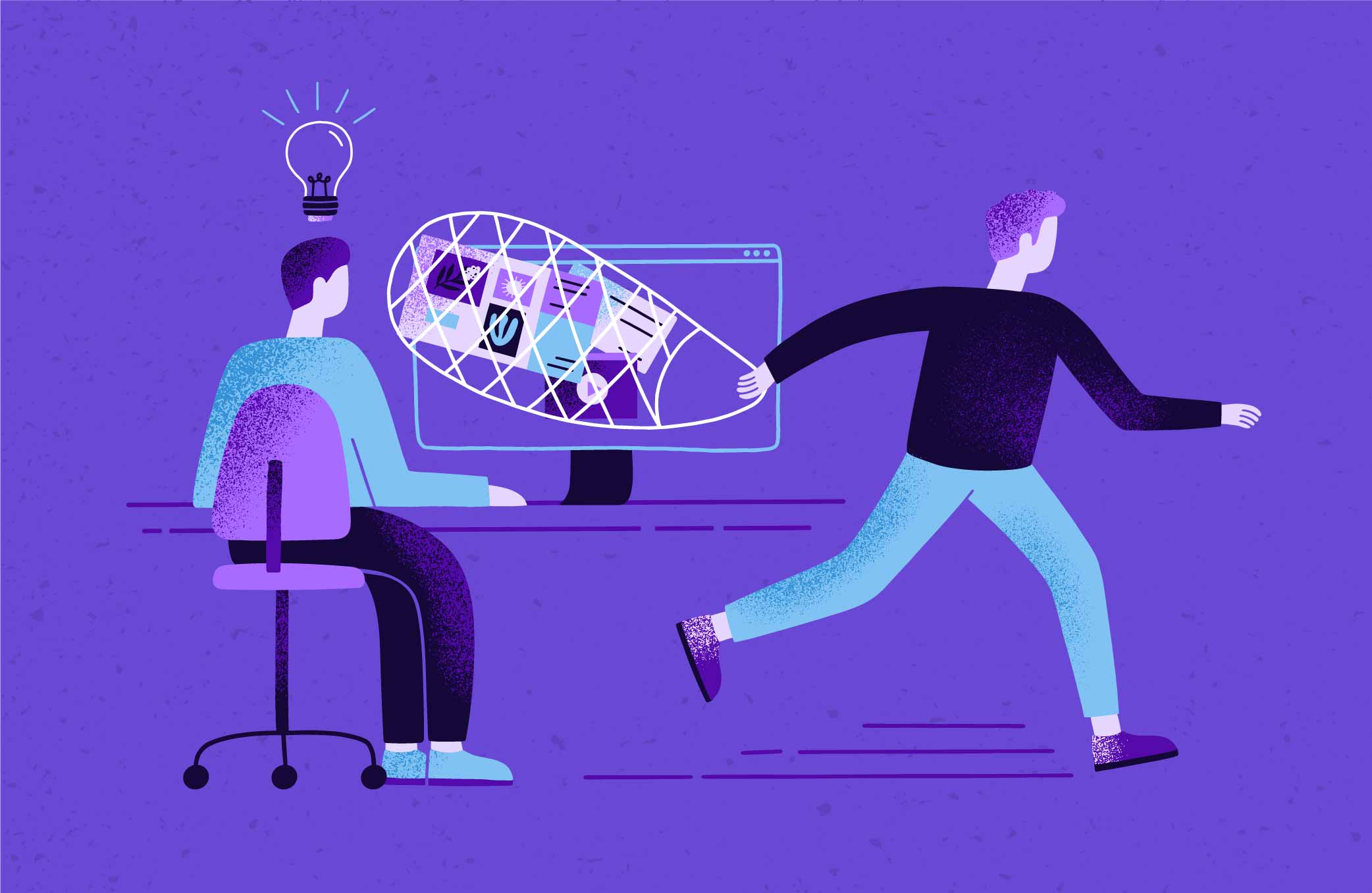 The plight of digital artists against copyright infringement
In 2019, Diwas Maharjan, a graphic designer who works at Hamro Patro, created a work relating to Indra Jatra in his spare time. He had allowed Hamro Patro to use the artwork for their post Indra Jatra. The work has been copied and used without permission by other businesses such as a biryani house, a cafe and even a well-known brand of two-wheelers, says Diwas.
Nepalese digital artists, as well as Community of Creators Nepala public Facebook page for graphic designers in Nepal, were able to raise a collective voice against the copyright infringement case in September 2021.
"Some of the companies admitted their mistake and deleted their posts," Diwas said. "However, one of the companies responded rudely and became confrontational. They only ultimately removed the image when they received a huge backlash from social media.
Diwas says he did not take legal action against the infringers because he did not have enough knowledge about copyright protection laws in Nepal. He says that even when he learned about the Copyright Act and the penalties for copyright infringement, "the process seemed too long and tedious to him."
"I just wanted a proper apology and credit for my artwork," he said.
The issue of copyright infringement of digital artwork is gaining traction time and time again on social media when notable companies use artwork without artists' permission.
In a recent case, Sunil Garbuja received a private message from his friend on January 1, 2022, informing him that apparently one of his works had been used without his permission. In the days that followed, he received even more messages from his friends indicating that several different companies were using his works without his knowledge.
Garbuja, an Australian-based illustrator and graphic designer, had created an Instagram page named 'KreativeKira' in 2017 to present his digital works. On the same Instagram page, he had posted an artwork titled 'Kauda' depicting a man and woman in traditional Magar attire on March 24, 2019. He had also released three time-lapse videos depicting the making of the artwork 'Kauda' in the following days.
However, on December 30, 2021, eSewa posted an almost identical illustration to the 'Kauda' artwork on the occasion of Tamu Lhosar without any attribution to Garbuja. When Garbuja sent a message to eSewa's official Facebook page, he said that eSewa responded "quite quickly but carelessly".
"They didn't read the issue I was addressing and responded with a cookie-cutter, copy/paste response related to the payment transaction issue," he said. "The next day they deleted the offending post and then apologized via DM."
While Garbuja is happy that eSewa at least acknowledged his mistake and deleted his posts, he's not sure that's enough of a fix.
"While the post was online, hundreds if not thousands of people saw my artwork without knowing that I had made it. The damage was already done," Garbuja said.
In Nepal, Copyright Act, 2059 (2002) provides copyright protection to original artwork and punishes copyright infringement. However, as the Copyright Act was written nearly 20 years ago and has only been amended once in 2004, it is woefully ill-equipped to provide copyright protection. author in today's digital world.
Digital artists the Post spoke to also said they felt the legal provision for copyright protection was too complex and preferred not to take legal action against copyright infringement. author.
The Nepal Copyright Registry Office at Bhimsengola in Kathmandu is the authority responsible for handling all copyright related matters.
Registration of a work of art requires the submission of an application to the Registrar's office by the author along with proof of ownership and a filing fee of Rs 100. After the application, the author of the Work must satisfy the Registrar and relevant officials of the originality, creativity, and authorship of the work. The whole registration process can take between a week and a month.
According to statistics provided by Nepal Copyright Registrar Office, from July/August 2016 to June/July 2021, 17 works under "Art/Painting" were registered. While from July/August 2021 to November/December 2021, only one work under 'Art/Painting' was registered. In total, from July/August 2004 to November/December 2021, only 2,166 copyright registrations were successful.
While Article 5 of the Copyright Act states that "the recording of a work, sound recording, performance or broadcast is not necessary to acquire the right under this Act", artists are advised to register their work for copyright protection if they intend to take legal action. action against copyright infringement.
Kumar Silwal, Partner at Sinha Verma Law Concern, says: "In theory, all works enjoy copyright protection without registration, as stipulated in Article 5 of the Copyright Act. However, we always advise authors to register their artwork to strengthen their infringement cases when they go to court.
But saving digital artwork can be easier said than done. Article 2(a) of the law defines the word "work" as "any work presented in an original and intellectual manner in the field of literature, art and science". However, it does not specify digital art in the definition of "work", so digital artists find it difficult to register their digital artwork for copyright protection.
Bigyan Prajapati, a graphic designer and digital artist, says that the process of saving digital artworks is unworkable. He created the iconic characters of Baucha O Maicha, two fictional Newa characters. Since other third parties started using his characters as t-shirt designs without his permission, he attempted to register his artwork for copyright protection.
"When I went to the registrar's office to protect my characters, I was told that I couldn't register the characters themselves, only specific artworks," Prajapati said. "And since I had created nearly 200 different works of art featuring Baucha O Maicha, recording them all was not financially feasible."
Instead, Prajapati was advised to drop his characters. However, since trademarks are only given to companies, he had to set up a company and only then could he trademark his "Baucha O Maicha" characters.
Copyright infringement has also been categorized as a criminal offense instead of a civil offence, which means that copyright infringement cases are offenses against the state and punishable by death. 'imprisonment.
Section 27 of the Act states that in cases where a person violates any protected rights, "such a person shall be punished with a fine in the amount of ten thousand to one hundred thousand rupees or a penalty of imprisonment not exceeding six months or both. [for the first offence]."
Priyanjana Bhattarai, who founded Legal Kalaa law firm specializing in the protection of intellectual property (intellectual property), states: "Although copyright infringement is a criminal offense, it creates fear among violators since the penalty for infringement includes the imprisonment, the downside is that artists must file an FIR and begin a lengthy legal process against offenders.
The lengthy compensation process and the fact that artists must file an FIR has led most artists to prefer not to take legal action and instead to raise their voices on social media against copyright infringers. In the event of copyright infringement in Nepal, it is the responsibility of artists to notify companies that they are using copyrighted artworks and images and request them to remove the artworks. art and related images.
When companies receive backlash for using copyrighted artwork, most simply issue private apologies and delete their social media posts. Artists rarely receive financial compensation for the illegal use of their works.
Ananda Maharjan, a graphic designer and typographer who is head of creative at Hamro Patro, has had instances where his fonts, artwork, and photos have been used without his permission or knowledge. It would simply send a message to copyright infringers to remove copyrighted artwork and images, he said.
Recently, when one of his fonts was used without his permission, he received financial compensation simply because the company wanted to continue using the font, so he made a deal with the company.
"Normally, these copyright infringement cases are committed by junior designers or inexperienced digital marketing agencies," Ananda said. "Most of the companies and even digital marketing agencies are unaware of copyright protection and its legal provisions in Nepal."
However, there are positive changes around the corner as intellectual property protection is gaining more and more attention in Nepal. Bhattarai, who founded Kala Legal given the recent explosion of interest and investment in digital art, says there is no doubt that copyright protection needs more attention in Nepal, and that artists should also be aware of the various intellectual property protection laws in Nepal.
Draft bill amending the Copyright Actknown as the First Amendment to the Copyright Act of 2059, was announced in early 2020, but has yet to pass.
Bhattarai says that while the bill may not be fully inclusive and is still a bit behind schedule, it is a step in the right direction.
"The bill expanded the definition of 'work' to include more creative work like translation, any 3D work, mobile apps, etc. says Bhattarai. "Although the bill still does not address the damage calculation aspect of financial compensation, the fine provided for in Article 27 has been proposed to be increased to Rs 20,000 to Rs 200,000 from Rs 10 000 to Rs 100,000 for the first offence."