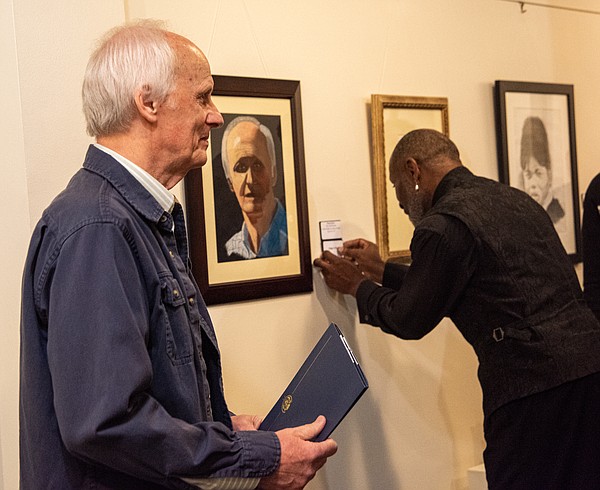 There's no place for mediocrity at LU's student art exhibit
Over the next few days, the public is invited to discover the talents of several Lincoln University art students.
LU's annual student art exhibition opened on Thursday with an awards ceremony recognizing top students for their work. This is the first student exhibition for a few years, as restrictions related to the COVID-19 pandemic prevented LU from organizing the event.
The instructors judged the work; winners received certificates and cash prizes were awarded to the top prizes.
Junior Stephanie Layton, who grew up in Linn, was among the winners. She is working on getting an arts education degree. It was his first exhibition; it had seven exhibits.
"It was humbling to see my work up there because I worked so hard on all those pieces, and now I can see them," Layton said.
The art that the students produced included paintings, drawings, and sculptures.
"Art was a way for me to express how I felt when I was growing up, and I found I could capture something no one else could see," Layton said. "In my paintings, it's really cool because when I look at the study of what I want to paint, I can see different shades of blues and browns. I try to explain that to people and most say: "It just looks like one color to me. I see thousands of colors, and it's really nice to replicate that."
Another winner was Doug Kaylor of Jefferson City. He is 70 and said he knew he wanted to explore his artistic side after retiring from working for the state.
"The last few years I was working, I started stocking up on supplies," Kaylor said with a laugh. "It's been a really good experience. I'm just having fun. I've done art as a volunteer, but I've always wanted to go a little further."
Kaylor, who exhibits several pieces, said he was satisfied with the result.
"I can see where maybe I should have done something a little different, but my instructor (Essex Garner) just says, 'Forget it,'" Kaylor said with a laugh.
One of the pieces for which Kaylor received an award was a self-portrait. When presenting the award, Garner joked with Kaylor, "Oh the rabbit hole we went down when you did that."
Sophomore Alayna Seeney of Jefferson City has won several awards for her work. When she was growing up, she wanted to be a fashion designer. As he grew older, his parents, seeing his talent, encouraged him to pursue art.
"I got to work with some great teachers here, and I won those awards, so I was like, 'Wow, I guess I'm really good at this,'" Seeney said.
Garner was proud of the students who had their work on display and said, "I don't tolerate mediocrity. A lot of students don't have their work here. They were turned away.
"You don't teach them to sustain, you teach them to excel," Garner added.
Those wishing to view pieces from this year's exhibition can visit the second floor of the Richardson Fine Arts Center on East Dunklin Street. Gallery hours are 10 a.m. to 4 p.m. through May 7.