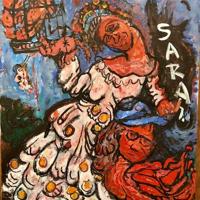 Variety of Artists Featured at Grayson Gallery | New
GREYSON Over 50 original works of art will be on display during the F!nal Fr!day Art Walk at the Grayson Gallery and Art Center.
Gallery director Dan Click said the art walk will include a reception from 6 p.m. to 9 p.m. Friday for a two-artist exhibition by Tina Howard Ousley and Tim Smith.
Ousley, a resident of Prestonsburg, studied biology at Morehead State University. She is a professor of biology at Big Sandy Community and Technical College.
Smith, also a Prestonsburg resident, is a professor of art at BSCTC. He studied sculpture for his BFA from Eastern Kentucky University and holds an MFA in sculpture from the University of North Carolina at Greensboro.
Additionally, "Postcards for Eastern Kentucky," postcard and prose works by the postcards and prose students of the Eastern Kentucky Arts Project will be on display, along with words of encouragement and support. for those who are still in need due to flooding in the area. .
Entertainment will feature the All Stars and Friends of the Huntington Blues Society.
"It will also be an opportunity to help grow regional membership and raise funds to send local winners to the annual International Blues Competition in Memphis," Click said.
The group meets from 7-9 p.m. on the third Saturday of each month at Black Sheep Burritos and Brews in Huntington for an open jam that all are welcome to attend. It also hosts the HBS Annual Affiliate Challenge to select winners who will compete in Memphis at the International Blues Challenge, where more than 200 musicians from around the world compete in different categories with more than 20 clubs, such as HBS, hosting challengers.
Funds raised from the gallery event will go to support two categories of contestants: Beckley's singer/songwriter Doris A. Fields (Lady D) as their solo/duo act and the band Generation Gap, whose members are also from West Virginia.
The HBS presents the annual Diamond Teeth Mary Blues and Arts Festival at Heritage Station // Huntington Visitors Center each summer in Huntington as part of their charity's work.
The GGAC Artists Market will be open during the evening with special offers up to 50% off and discounts on artwork including paintings, photography, ceramics and jewelry. Those who make a purchase that evening will be eligible for a door prize, which will be awarded on December 15.
"This date has been set for a special community celebration that will take place from 6-8:30 p.m. that evening," Click said. "The Grayson Gallery and the Grayson Creative Community will welcome those who have made this past year such a success in building the Grayson community." Invitations to this event will be sent out in the coming weeks to individuals and organizations for their continued support of the arts.
Catering by Laura will provide refreshments.
Although the event is free, visitors will be encouraged to make donations to various causes, including the GGAC.
For more information, contact Click by emailing [email protected] and search for the gallery on Facebook.