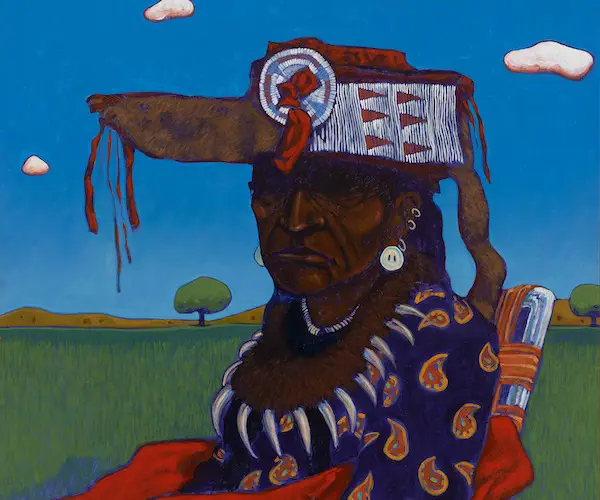 Visual Arts Review: "On This Ground" — History of Revisionist Art
By Charles Giuliano
It was especially delightful to see George Washington get his award.
On This Ground: Being and Belonging in America, curated by Karen Kramer and Sarah Chasse at the Peabody Essex Museum, Salem, in progress.
In 2019 my wife and I visited museums in Montreal, Ottawa and Toronto. They were very different from how we remembered them. In addition to numerous special exhibits, the work of First Nations artists and artisans, both traditional and contemporary, has been fully integrated into the institutions.
This movement of unification was initiated in 2017 by Matthew Teitelbaum, then director of the Art Gallery of Ontario and current director of the Museum of Fine Arts Boston, on the occasion of the 150e anniversary.
When I asked him about this decision, Teitelbaum told me that the intention was to show all Canadian art, which led to the hiring, for the first time, of an Aboriginal curator from canadian art. In contrast, when Malcolm Rogers oversaw the creation of a new American wing at the MFA, the representation of Native American art was (literally) confined to a few artifacts in the final gallery.
This attitude will slowly change at the MFA, which has shown little or no interest or commitment to this work. Recently, the museum acquired a major work by leading artist Jaune Quick-to-See Smith. It is scheduled for an upcoming retrospective at the Whitney Museum of American Art. Previously, the Whitney exhibited Jimmie Durham whose native heritage is debated.
The Peabody Essex Museum has a long history of collecting Native American material and now does so extensively. In this regard, it is an outlier. Contemporary Native American artists have been terribly overlooked by the mainstream American art world – we are far behind Canada in this regard.
The PEM has just relocated its American collection, which spans colonial times to the present day, and it's an ambitious, intriguing, but problematic exhibit. On this ground: to be and to belong to America was beautifully installed by curators Karen Kramer and Sarah Chasse. They had a committee of Indigenous advisers and scholars who helped with signage and developed texts that deconstruct and contextualize the works on display.
The result is an illustrated review of American art, history, and culture. PEM has many fine works on display here, but this curatorial effort is not meant to celebrate the institution's familiar masterpieces. On this ground reflects an anti-hierarchical approach, a trend in art history teaching. Powerpoint presentations replace slideshows. Canonical texts by HW Janson and Helen Gardner have been revised and replaced.
In an iconic 1983 article "The Imaginary Orient," Linda Nochlin explained how this heuristic shift should be viewed:
Yet it seems to me that both positions – on the one hand, that which sees the exclusion of 19th century academic art from the sacred precincts as the result of the machinations of a dealer or a cabal of vanguard; and on the other hand, those who see the desire to include them as a revisionist plot to weaken the quality of high art as a category — are mistaken. Both are based on the notion of art history as a positive discipline rather than a critical discipline.
Unsurprisingly, the most impactful aspect of this installation features works by prominent Native American artists: Kay Walking Stick, Alan Michelson, Will Wilson and Marie Watt. If you've been paying attention over the past decade, they're easily familiar.
In a strident, sometimes amusing way, the portraits of the Colonial in the 19th century, of which PEM has exceptional examples, are set up as straw men for revisionist talking points. One might rightly add; it's hard not to agree with the reviews on the show's labels. These good citizens made their fortune with blood money. Childhood portraits by Boston Impressionists Frank W. Benson, such as his "Portrait of Jane Shattuck" and Edmund Charles Tarbell's "Edmund and His Pony Peanut," stand out today as hilarious and sentimental signifiers of wealthy privilege. White. It is a scandal that the MFA collected their works in depth while ignoring the Jewish Expressionists of Boston. Yet there is a question worth asking: in terms of art history, does this mean that we can no longer admire the talent of colonial masters such as John Smibert, Robert Feke, Joseph Blackburn and John Singleton Copley?
It was especially delightful to see George Washington get his award. There is an unintentionally humorous picture of the apotheosis of the holy president painted in China (1802-05) from an engraving. Juxtaposed to this photo of the beloved founding father is an Alan Michelson gob smack. A video stream of images documenting Washington's racist treatment of natives, who were considered non-citizens in our democracy, is projected onto a bust of our first president by Jean-Antoine Houdon. The tribes fought on Washington's side during the French and Indian War, but after the Revolution he refused to meet with them and honor treaties. Let's not forget that Washington owned slaves like our other presidents, except Adams, father and son, up to Lincoln.
If you look closely at the exhibit, there are wonderful finds. It was exciting to see a copy of poems by Phillis Wheatley Pearce (1753-1784), a Boston house slave. A 19th-century Wampanoag Nation eel trap is a sight to behold.
One of the themes of the installation is to critique America's idealized romance with Indians with the reality of Native Americans. In 1906, JP Morgan provided photographer Edward S. Curtis with $75,000 to produce a series on Native Americans. The project spanned 20 years. The images have been staged and sanitized. A selection of his images are contrasted with a series by Navajo artist Will Wilson, who photographs neighbors in their homes in the clothes of their choice.
Since the EMP is located in Salem, it's no surprise that we find out about the city's infamous witch trials. There is a corny painting by hack illustrator Tompkins Harrison Matteson (1813 – 1884), Trial of George Jacobs, Sr. for witchcraft, 1855. In this case, curators turned a blind eye to issues of taste and quality. Apparently, they are inspired by Nochlin's thesis: it's okay to show bad art — if it raises a critical point. It's not the only such disregard in this exhibit, which left me a lot to think about. In the end, I felt more like I had received a myth-busting history lesson rather than an enriching aesthetic experience. What is the point of dumbing down the barrel to educate the general public?
---
Charles Julien published his seventh book, Museum of Fine Arts, Boston: 1970 to 2020 an oral history. He publishes and edits Berkshire Fine Arts.