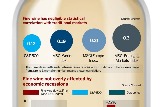 Young people demystify investing in fine wines
The elimination of taxes and licenses on the import and export of wine in Hong Kong in 2008 was instrumental in its market leadership. The combined wealth of the city's and mainland China's youth makes wine an investment asset and a lifestyle choice. Hong Kong.
Wine collecting and investing was once the preserve of the wealthy upper class traditionally associated with hedonistic lifestyles. This has changed in recent years with the influx of young investors who have expanded the wine sector.
Paul Wong, head of Sotheby's wine and spirits auctions department in Asia, refers to his three-day wine sales in Hong Kong with five auctions from October 7-9, 2021 that brought in $196 million HK ($25 million) in sales, recording the third highest total for Sotheby's Wine & Spirits Sales Series in Asia.
wine online
Wong sees this as a consequence of auction houses being forced by the COVID-19 pandemic to go online with sale promotions. Young affluent people are very comfortable shopping online and are ready to explore. "In 2021, 37% of our new buyers were under 40. The increase in activity from new auction buyers accounted for 40% of total sales," says Wong.
However, Wong doesn't see this as a decision to invest primarily for long-term monetary gain. "Ninety percent of our buyers buy wine for their own consumption or for collection before drinking, but not for investment," Wong said. Those who sell often have an overabundance of wine in their collection. "People usually buy faster than they drink," which is a belief inherent in wine tasting culture that the same bottle of wine tastes different as it matures, Wong says. "People tend to buy several bottles at once to taste them at different stages."
The majority of bettors who trade stocks of publicly traded companies generally care little about the nature of the companies in their portfolios. They follow rumors and react like lemmings to trends. More serious investors add wine and art assets to their portfolio for a stable long-term balance. They also need deeper knowledge and familiarity as fine wine and art collectors.
Only around 1% of the wine produced in the world is considered an investment. Investors have physical ownership of the wine – usually in crates. There is a risk of the wine spoiling beyond its optimum age, if not consumed, unlike fine art. Thus, wine investors tend to gather their favorite wines by regions and producers to consume and share or trade, as the value of the asset increases. Art is collected by a specific piece, from a particular artist, for price appreciation over time.
Non-volatile
There is no direct correlation between the price movements of listed stocks tracked by the S&P 500 and the price movements of wine and art stocks. The price dynamics are entirely different, says Anthony Zhang, co-founder and CEO of Vinovest, an e-commerce platform for fine wines. He cites a statistically insignificant correlation of 0.12 between the S&P 500 and the fine wine market. He says a stock market crash would not weaken the fine wine market.
Unlike volatile stocks and bonds that trade in reaction to daily news, natural disasters, wars, pandemics and supply chain disruptions, investments in wine and art-related assets are relatively stable. . Wine prices change according to the weather, crop yields and terroir. The lack of a link between stock prices and wine prices allows fine wines to withstand economic shocks, says Zhang. They are good diversification for an investment portfolio as a hedge against market volatility.
During the COVID-19-induced recession from January to March 2020, fine wines fell 4.1%, while the S&P 500 and Dow Jones fell 18.8% and 21.1% respectively. , according to the Liv-ex Fine Wine 100 Index, the leading benchmark for the wine industry. "This performance was the rule, not the exception. Fine wines have outperformed traditional markets during recessions time and time again," says Zhang. During the dotcom bubble, fine wines rose 7.2% from August to December 2002, while the S&P 500 and Dow Jones fell nearly 20% each.
Also, says Zhang, fine wines can be physically owned, unlike stocks and bonds, which are bits of paper to be traded. Wine presents a lower and easier entry point for the average investor to diversify their portfolio. But for fine art, only one individual can claim ownership and an appraiser must set the price, Zhang says.
Leveraging algorithms and big data analytics, Vinovest acts as a personal investment advisor, curating diverse wine portfolios based on client preferences. This information from big data is not transferred to art collections, where there is no mass supply, nor alternatives. Zhang makes this distinction very clear.
Natural wine consumption
Linden Wilkie, director of The Fine Wine Experience, observes that the increase in domestic consumption imposed by the pandemic has diminished the demand for "superfancy" wines and stimulated the demand for "everyday" wines. As a foodie hub in Asia, more and more establishments in Hong Kong are allowing BYO (bring your own) with a corkage fee that also encourages experimentation with wine pairings by consumers. It makes wine with meals a lifestyle habit rather than an exceptional choice. This growing model of socializing and sharing is energizing the wine market.
Wilkie draws attention to wine choice in informal sharing with friends and family versus business networking. In social settings, "the right kind of wine is needed to share and accommodate varied personal tastes", while in business networks, "wines with famous labels would give a face to the host".
Wine tasting through the discovery of the theme of wine has become a directory of wine retailers and merchants, engaging wine lovers in a recreational and educational way. Practical and light education integrates wines into daily lifestyles and widens the range of consumption so that a true wine culture develops.
Corinne Mui, founder of the 17-year-old CorVino Wine School, caters to all levels of wine knowledge, from avid consumers to sommeliers, private club members, hoteliers, airline wine selectors and connoisseurs. She is impressed by Hong Kong students eager for knowledge and taste experiences. His palace training workshop is particularly popular across all segments. The appreciation of wine is a habit acquired and cultivated from regular tastings. "They validate my decision to open the school," says Mui.
Joe Alim, Director of Cult Wines Greater China, provides investment management, collection, winery and fine wine evaluation, as well as the organization of exclusive wine events and bespoke bespoke experiences. Cult Wines, founded in 2007 in London, has offices throughout Asia, including Hong Kong, Shanghai and Singapore.
"There are generally two types of customers," says Alim. "The first would be focused on returns, very conservative on the numbers and would follow our recommendations on portfolio allocation; the other has particular interests in certain regions, less focused on investment merit."
Continent factor
In 2008, Hong Kong removed all customs and administrative controls related to wine tariffs. No taxes or licenses are required for importing or exporting wine. "This is a key factor underpinning the city's status as the gateway to mainland China and the rest of Asia for fine wine," says Alim. "Hong Kong has a deep and rooted fine wine culture that dates back decades and is home to some of the world's greatest collectors and connoisseurs. The level of knowledge and passion among wine lovers in Hong Kong is on par with the highest high of the world. world."
Zhang of Vinovest predicts that Hong Kong's role in the global wine industry will also be enhanced by the development of fine wines on the mainland. "Wines like Ao Yun presented at La Place de Bordeaux signify monumental progress by Chinese winemakers in recent years. Additionally, industry titans like Domaines Barons de Rothschild and LVMH have invested heavily in Chinese vineyards, and the fruits of their labor to be recognized," says Zhang.
Boost for premium wines
The most notable lots in Sotheby's three-day auction series were the mature 30-year-old collection offered by Pierre Chan. This curated top producers from Bordeaux, Burgundy, and other high-end vineyards. "Novelty and provenance," says Wong, "are two mind-blowing factors for today's wine buyers." While a standard bottle of wine is 750 milliliters, Chan's collections offered from 1.5-liter Magnums to 3-liter Jeroboams to maintain a good flow for house parties. It has become a new normal under the pandemic.
While the first wave of wine collectors were all about red wines for health, today's youth are more experimental for taste and diversity, matching the dietary shift to red meats. Burgundy whites (mainly chardonnay) are gaining ground, notes Zhang. The Champagne region is also finding favor with new consumers, with smaller brands tested beyond the huge production of the famous Champagne houses.
The Burgundy region benefits from the refinement of air currents and Mediterranean sea temperatures, on clay-limestone soils. They produce fine wines. Napoleonic inheritance laws unfortunately reduced ownership of plots over generations, making wine production expensive due to lack of scale. Despite this, new, young, affluent consumers are willing to pay for the high-end elegance of Burgundy, alongside the power of Bordeaux's finest wines.